Best Cannoli Dip Recipe & Cinnamon Sugar Tortilla Chips
This post may contain affiliate links. Please check our privacy and disclosure policy.
The Best Cannoli Dip Ever is seriously the easiest dessert you'll make all year. Creamy ricotta and marscapone cheese, combined with sweet powdered sugar, almond, vanilla, and chocolate chips. As a bonus, I've included my recipe for cinnamon sugar tortilla chips!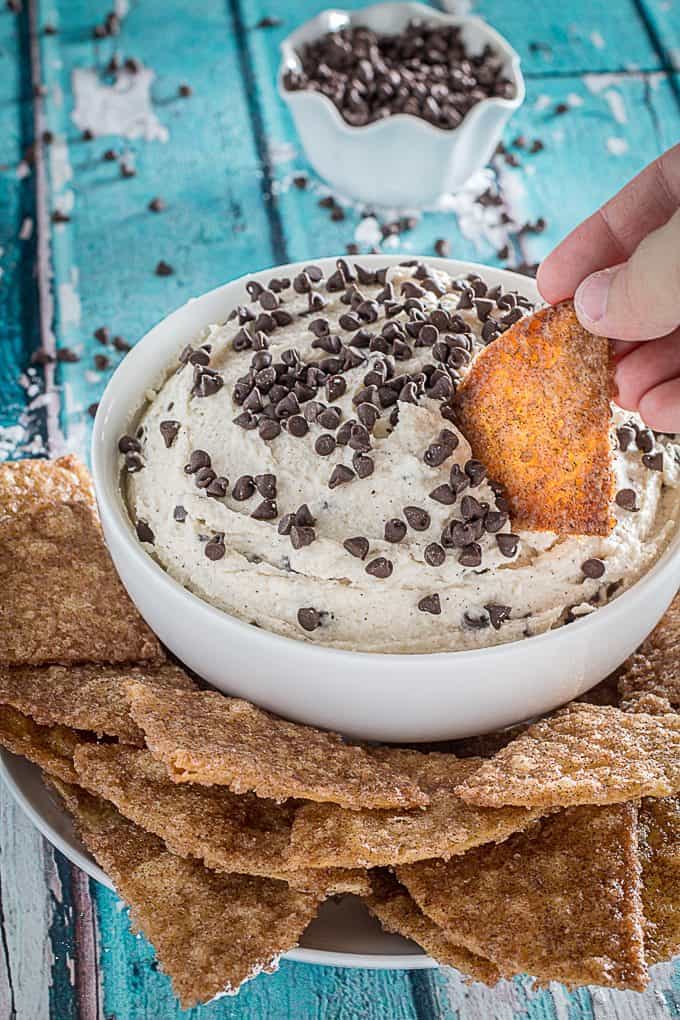 It's already September. In fact, we're already a week into September! Eek! Where did that time go? 
Which basically means that the holidays are quickly approaching us. Do you know what you're going to bring next time you have a party to go? Don't worry, I have you covered with what is probably the world's easiest dessert recipe. Seriously, when I say easy, I mean throw-it-in-the-mixer and you're done type of easy.
The Best Cannoli Dip Ever may even get you invited to more parties, it's so good. I've also included my absolute favorite dipping tool, the cinnamon sugar tortilla chip. Equally as delicious, slightly more time to make, but can be substituted for a store-bought chip.
Easy desserts are the best, aren't they? It basically means you can fit in a nap before the party, with all that time you were planning on using for cooking. Ah, sleep, you fickle friend.
The holidays just got a little bit brighter, didn't they?
[adthrive-in-post-video-player video-id="mOgHyJnO" upload-date="2018-10-31T00:30:07.000Z" name="Cannoli Dip Recipe" description="Cannoli Dip Recipe"]

Raise your hand if you love cannoli filling!
Ah, cannoli filling. I don't believe I've ever met a person who doesn't like it. Usually, the response to the word "cannoli filling" itself is a mixture of the glossy-eyed nod of the head (you know, while they're suddenly dreaming of all of the cannoli filling they've ever eaten), or the enthusiastic, "Of COURSE I want that cannoli filling!"
Or, at least that's been my experience. Growing up in New York City (pre-celiac diagnosis), I've been lucky to have access to some of the best Italian bakeries in the country. I'm still in mourning over the loss of my weekend hand-made mozzarella. They just don't do that down here. Maybe Florida just doesn't know how incredibly delicious Italian food is, when done right. Maybe I have to show them! Ok, I may just have found my life's purpose here. 
…Just kidding, I'm terrible at making mozzarella. I've tried it a few times, but to no avail. I ended up with a big pot of messy curds and one teeny tiny ping-pong-sized-ball of mozzarella.
Alas… I'll have to wait until vacation to visit my favorite deli. 
So, when I found out about the whole you need to be gluten free for the rest of your life thing, I had to come up with a way to enjoy some of my favorite foods while getting rid of the gluten. While I do have a set of cannoli forms for a special occasion, it is just a pain to break them out and fry the shells. At least when there's a really, really fast alternative so easily at hand!
And cannoli cream isn't that hard to make, either!
Fast is what I'm usually going for when I have a party to get to, especially when you work full-time on a Friday and have to get home in time to clean up, make your cannoli cream, and get to the event at a decent hour before everyone's already full of the other party desserts there. Alright, cannoli dip, front and center!
Or, you know, you could always make cannoli cream for a weekday, like Andrew and I do. Hello, lazy Wednesday, would you like to be a little bit sweeter this week? Cannoli cream level sweeter? Cannoli cream level awesome?!
As of right now, I have a borderline inappropriate love for this cannoli cream. Aka a sweet, creamy little taste of heaven right here. And I'm on a dessert kick lately, so why not keep it going? I have some dinner recipes coming up soon, I promise. I've already taken the pictures! And the cannoli cream was delicious. I know this because I may or may not have eaten three cannolis a few bites of cannoli dip last night.
The perfect cannoli filling recipe?
The fascinating thing about any cannoli filling recipe is that you'll find a different variation about the "right" way to make it depending on what part of Italy you're talking about. Some places will use a more dry or creamy form of ricotta (ahem – which you cannot find in Florida, apparently), and others will or will not use marscapone. Some make their cannoli filling recipe out of 100% ricotta, some will use 100% marscapone. Think of it this way, you don't eat the same way in the north-east as you do in the deep south of the US, right? It's all regional. The important part is when you take a big spoonful of your own cannoli filling recipe, and go Mmmmmm… I love this cannoli filling recipe.
To me, it doesn't really matter, as long as it's delicious.
And gluten free, too.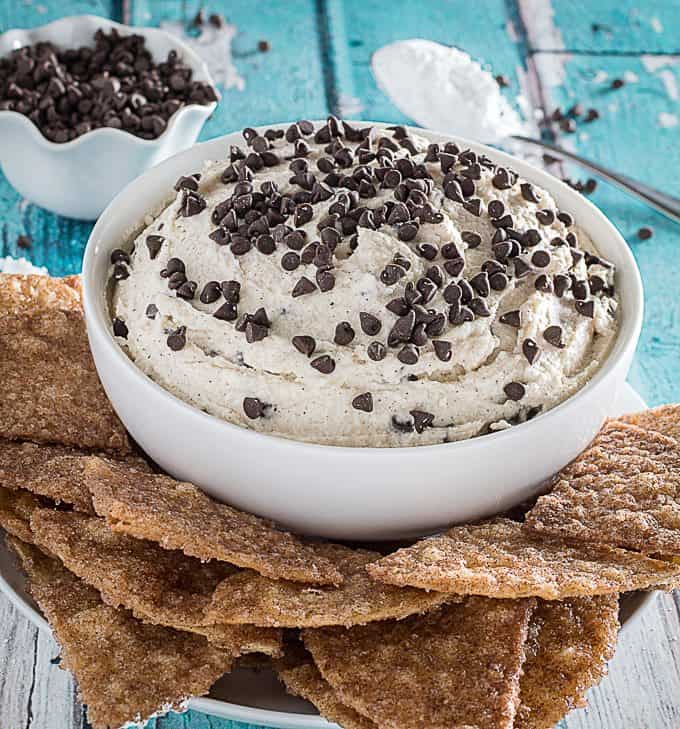 Of course, this isn't my first trip to the dessert party-dip category. Which is why I came up with a list! You can check these out if you want a little something extra to bring with a bottle of wine to your next get-together. This list of desserts is either gluten free, or easily converted to gluten free, which is just as good!
These crispy little cinnamon sugar tortilla chips are just an added bonus here! If you have a little extra time, they're perfect for dipping into this cannoli dip, resulting in a full party-in-my-mouth flavor explosion going on here. Bonus, they're gluten free!
Alright, I may be going into dessert-y dip overload right now. So many options! Nonetheless, I think this dip will remain my favorite dessert dip, with the pumpkin dip coming in a close second.
Unless I'm in a really pumpkin type mood, then you may reverse that.
♡ Today, however, cannoli dip for the win! ♡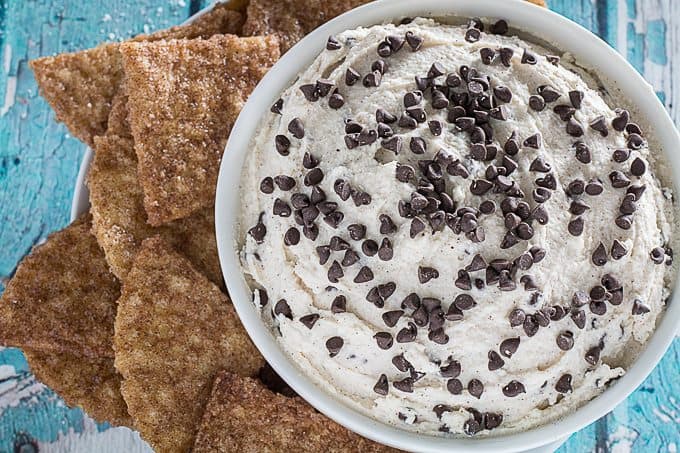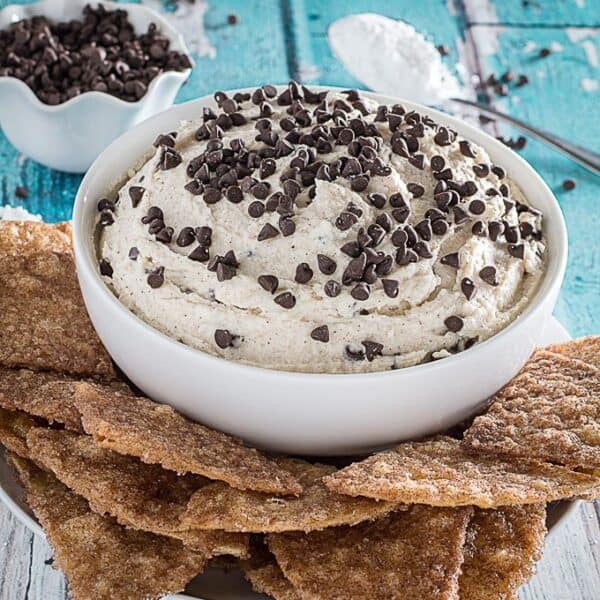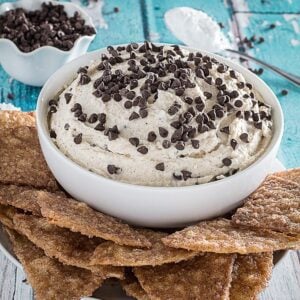 Best Cannoli Dip Recipe & Cinnamon Sugar Tortilla Chips
The Best Cannoli Dip Recipe is seriously the easiest dessert you'll make all year. Creamy ricotta and marscapone cheese, combined with sweet powdered sugar, almond, vanilla, and chocolate chips. As a bonus, I've included my recipe for cinnamon sugar tortilla chips!
Ingredients
For the Cannoli Dip
8

oz

mascarpone

8

oz

ricotta cheese

1

tsp

vanilla extract

½

tsp

almond extract

¾

cup

powdered sugar

½

tsp

cinnamon

1/2

cup

mini chocolate chips

,

optional
For the Cinnamon Sugar Tortilla Chips
1

tbsp

cinnamon

1

cup

white sugar

10

small

corn tortillas

8

tbsp

unsalted butter

,

melted
Instructions
For the Cannoli Dip
In a mixing bowl beat together mascarpone, ricotta, vanilla extract, almond extract, powdered sugar and cinnamon. Fold in chocolate chips.

Refrigerate until ready to serve.
For the Cinnamon Sugar Tortilla Chips
Preheat oven to 350°F. Line 2 baking sheets with parchment paper.

In a small bowl, whisk together cinnamon and sugar to combine. Stack tortillas and cut into 4 pieces. Lay tortilla pieces on baking sheets, leaving a little bit of room between each one.

Brush top side of chips with melted butter. Sprinkle cinnamon sugar mixture liberally on top of each piece. Turn tortillas over and repeat on the other side.

Bake

10-15 minutes

, or until golden brown and crispy. Let cool before removing from baking sheets.
Notes
Click on the time in the instructions to start a timer!
Nutrition
Calories:
183
kcal
(9%)
Carbohydrates:
20
g
(7%)
Protein:
3
g
(6%)
Fat:
10
g
(15%)
Saturated Fat:
6
g
(38%)
Trans Fat:
1
g
Cholesterol:
25
mg
(8%)
Sodium:
21
mg
(1%)
Potassium:
33
mg
(1%)
Fiber:
1
g
(4%)
Sugar:
14
g
(16%)
Vitamin A:
301
IU
(6%)
Vitamin C:
1
mg
(1%)
Calcium:
51
mg
(5%)
Iron:
1
mg
(6%)
We are a participant in both the RewardStyle and Amazon Services LLC Associates Program, which are affiliate advertising programs designed to provide a means for sites to earn advertising fees by advertising and linking to amazon.com and through RewardStyle.