Cheesy Cauliflower Soup in 30 Minutes
This post may contain affiliate links. Please check our privacy and disclosure policy.
Cheesy Cauliflower Soup is the most delicious way you will ever find to get your vegetables. Leeks and onions sautéed with chopped carrots and celery, simmered with cauliflower and spices, then puréed and smothered in shredded cheddar cheese. It's ready in 30 minutes and under 300 calories per serving!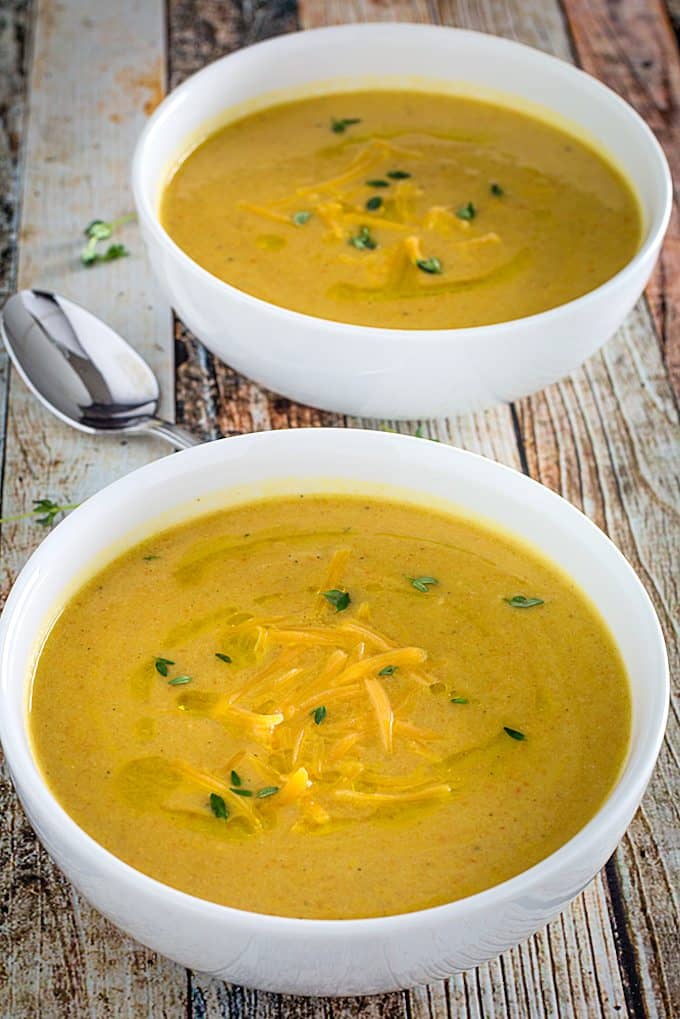 Here's a dinner that I love serving to my family. Not only is it easy to make, it's also stuffed with hidden vegetables and it's ready in 30 minutes! Cheesy cauliflower soup is definitely one of my new go-to meals on cold days. It just makes your entire house smell divine, and gives you that warm comfort food feeling. And the best part is that it's under 300 calories per bowl (2 cups)!
This recipe is also a great way to use up any leftover veggies that you have in your refrigerator. Besides for cauliflower, I used carrots, celery, leeks, and onion, but basically anything that you would use in stew would work for this!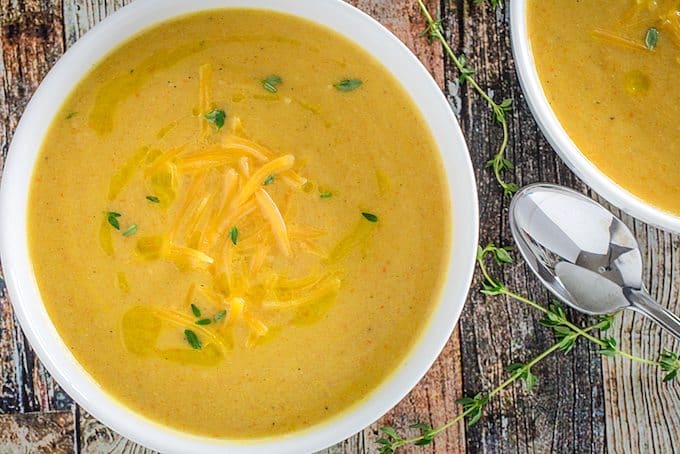 I spoke a little bit about how I'm trying to get in shape in my last post. Status update: It's going really well so far! I actually started lifting weights back in November, but this month I've really started focusing on lifting heavier, adding cardio, and eating more mindfully. Having celiac is hard enough, but I also recently found out that I'm pre-diabetic. I'm not completely shocked as it runs in my family, so genetics are playing a small part in this. But it has brought me to the realization, that I am not the best version of myself.
Don't get me wrong, I'm not jumping on the shaming bandwagon here. Far from it. But my body is sending me a clear message. Not only did I find out early, but I've discovered this with enough time to completely reverse it. I know not everyone is so lucky, and sometimes genetics really do just put you there. But I know in my case, from working with my doctor, that eating right and exercising will be completely preventative for me.
And that's what I'm planning on! And with all of the exercising I've been doing, I've finally started to be able to do things that my body was not capable of doing before. For example, push-ups. It's such a little thing, but I'm insanely proud of myself for being able to do them now. I feel stronger, I feel faster, and I know I can achieve whatever I set my mind to. And I can't wait for where this journey is going to take me next.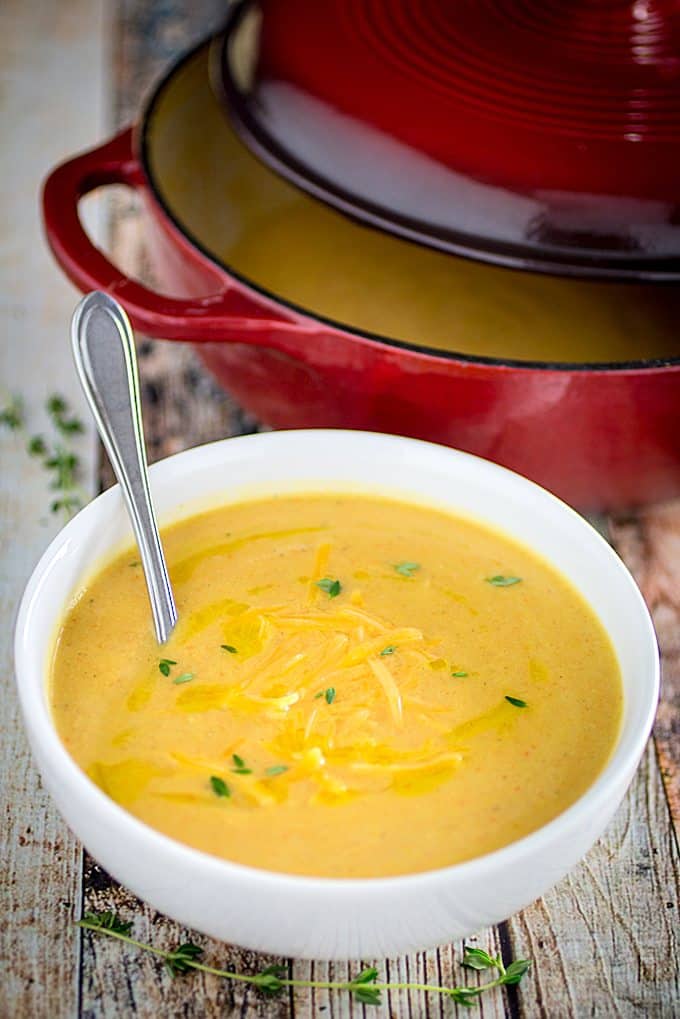 And with that, I've also started to find more ways to get nutritious foods into my diet, without sacrificing flavor. And trust me, this cauliflower soup doesn't sacrifice an ounce of it. It's got some serious veggies going on – carrots, celery, leeks, onion, and let's not forget cauliflower – while still maintaining that cheesy puréed-into-submission taste I'd expect from any cream soup.
In fact, I served this up for dinner last night, and Andrew couldn't even tell that there wasn't actual cream in this. I substituted for 2% milk, instead. Mostly because that happens to be what I usually have in my refrigerator. But if you simply must have this in a more traditional sense, then feel free to swap out the 2% milk for whole milk or cream. Or, soy/almond/coconut milk if you're avoiding dairy. To be honest, I don't think you'd even notice much of a difference here.
It's really similar to my potato leek soup this way.
While I'm on the fitness train here, the only thing really missing in this soup is a good source of protein. Which is why I like to serve this alongside some baked chicken. It's really the perfect combination, and works well as a lunchtime soup and salad combo! While on the other hand, Andrew's preference is to make this a cauliflower soup and fresh-baked bread night. I have nothing against gluten free bread, we even have a bread maker that makes it super easy. But it kind of defeats the purpose of keeping this one low-calorie, doesn't it?
Although, I can't argue on the delicious points of the combo.
And here's the official deal. 80% of the time, I'm going to be eating healthier, more mindfully, and trying to stuff as many vegetables into my mouth as I can in one bite. The other 20% of the time though, all bets are off. So don't think I'm completely abandoning my favorite comfort foods just yet! You're still going to see plenty of awesome gluten free recipes here (kind of like this cauliflower soup). I am officially obsessed with making healthier food taste like the real deal.
And I'll still be throwing in some awesome dessert recipes, too!
You know, to keep my cheat days interesting.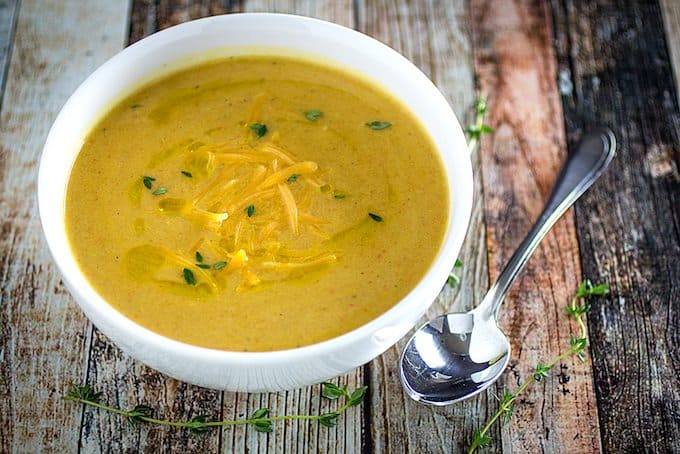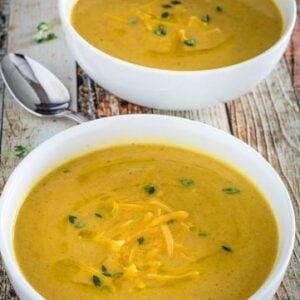 Cheesy Cauliflower Soup
Cheesy Cauliflower Soup is veggies with cauliflower and spices puréed and smothered in shredded cheddar cheese. Ready in 30 minutes!
Ingredients
2

tbsp

unsalted butter

,

unsalted

1

medium

yellow onion

,

chopped

2

medium

leeks

,

chopped

2

stalks

celery

,

chopped

2

medium

carrots

,

peeled & chopped

1

medium

head cauliflower

,

chopped

1

tsp

garlic powder

1/2

tsp

salt

1/2

tsp

pepper

1/2

tsp

dried thyme

4

cups

vegetable broth

,

gluten free

2

cups

cheddar cheese

,

shredded

1 1/2

cups

2% milk
Equipment
Dutch oven

Immersion blender
Instructions
In a large dutch oven over medium heat, melt butter. Add onions, leeks, and celery and sauté until softened, about

5 minutes

, stirring frequently. 

Add carrots, cauliflower, garlic, salt, pepper, and thyme. Stir all ingredients together.

Pour in broth. Simmer until vegetables are soft, about

10 minutes

. When vegetables are soft, use an immersion blender to puree all ingredients. 

Add milk and cheddar cheese, stirring well to combine. Top with additional cheese if desired.
Notes
Use a blender in batches or an immersion blender to purée soup. 
Click on the time in the instructions to start a timer!
Nutrition
Calories:
416
kcal
(21%)
Carbohydrates:
26
g
(9%)
Protein:
21
g
(42%)
Fat:
27
g
(42%)
Saturated Fat:
17
g
(106%)
Trans Fat:
1
g
Cholesterol:
81
mg
(27%)
Sodium:
1702
mg
(74%)
Potassium:
763
mg
(22%)
Fiber:
5
g
(21%)
Sugar:
13
g
(14%)
Vitamin A:
7265
IU
(145%)
Vitamin C:
58
mg
(70%)
Calcium:
592
mg
(59%)
Iron:
2
mg
(11%)
We are a participant in both the RewardStyle and Amazon Services LLC Associates Program, which are affiliate advertising programs designed to provide a means for sites to earn advertising fees by advertising and linking to amazon.com and through RewardStyle.