Chocolate Peanut Butter Protein Shake
This post may contain affiliate links. Please check our privacy and disclosure policy.
Chocolate Peanut Butter Protein Shake is smooth and indulgent. Creamy peanut butter, sweet honey, bananas, and chocolate protein powder blended with cinnamon and vanilla will make this your new favorite breakfast!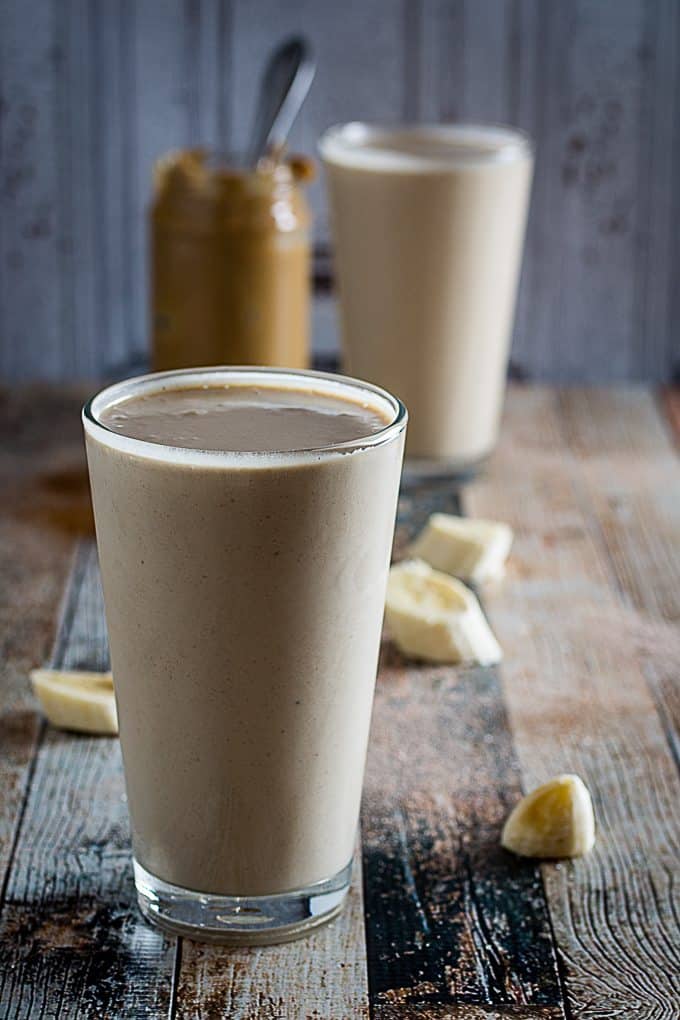 It's all of the things you'd like in a breakfast smoothie, with the sweet indulgent taste of a dessert. Chocolate Peanut Butter Protein Shake is definitely one of my favorite protein shake recipes, and I'm pretty sure you're going to love it, too!
The best part about this shake is the protein. Or the chocolate… I'm still deciding. But the protein will keep you full all morning long, so you're not craving a snack an hour later.
So, you're basically getting dessert for breakfast, packed full of protein, and all in one glass. Does it really get any better than that?
Here's the thing about protein shakes. They don't – under and circumstances – have to be boring. I'm serious! Too many people think mixing some boring protein powder with a glass of milk is all you need. But I say, why? Why not add all of the good things that you love about smoothies, along with your favorite protein?
In fact, that's exactly what they do at my local gym. The only problem is that they can't guarantee they'll be gluten free. Which poses a problem for some of us.
So, while I can't always indulge at the gym, I can come home and make something that I believe is even better. Most of the time, I'll indulge in a chocolate peanut butter protein shake in the morning when I'm running out the door and need a quick breakfast. This is even easier when you have a one-cup blender! Just blend everything right in the cup, put the top on and go.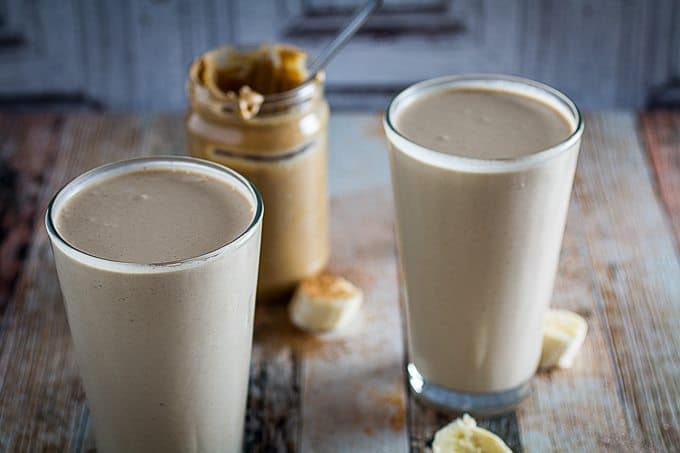 Protein shakes – or smoothies, for that matter – are pretty simple to make. I always follow an easy formula, which is exactly how I came up with this chocolate peanut butter protein shake!
How to Make the Perfect Smoothie or Protein Shake
Pick a fruit (pick 1 or 2). This can be anything you'd like! I always use one or two of the following: Bananas, strawberries, blueberries, cherries, or raspberries. Pro Tip: Freeze your fruit first! Also, always peel bananas before freezing. I learned this one the hard way…
Or maybe a vegetable. Don't be afraid to throw a handful of spinach in there, or even some sweeter vegetables like sweet potato. Don't go overboard here though, unless you're going for the green smoothie type of thing.
Pick a protein (pick 1 or 2). Add something to your smoothie to keep you full! The worst thing is making something that tastes amazing, but you're hungry an hour later. My favorite options here are peanut butter, protein powder (chocolate, vanilla, or strawberry, depending on your smoothie), cottage cheese (it's not as bad as you think it is!), greek yogurt, or silken tofu. While we're on the subject, silken tofu is a lot like greek yogurt but non-dairy.
Something liquid (pick 1). Usually milk, almond or soy milk, or water here. Pick your favorite, your blender will thank you for it.
Power it up (pick 1 or 2)! Add some nutrient-packed additions if you'd like. These are optional, but they never hurt. I like to add a tablespoon of chia seeds or ground flax seeds.
Add some spice. Don't be afraid to add a bit of spice or a dash of vanilla extract to your smoothie. My favorites are cinnamon, nutmeg, apple pie spice, or pumpkin pie spice. Don't be afraid to get creative, but you generally want to stick to dessert spices here.
Make it sweet. Add something for just a touch of sweetness. A spoonful of honey, maple syrup, or even a dash of sugar.
Make it cold. Add some ice. It just makes it better, trust me.
How much of everything you use really depends on how big your blender is, and how big of a smoothie you want. As a general rule, I try not to go over 1 serving of protein powder per smoothie. In fact, my chocolate peanut butter protein shake is only 1/2 a serving per smoothie. The peanut butter adds the other part, in my opinion this is more than enough.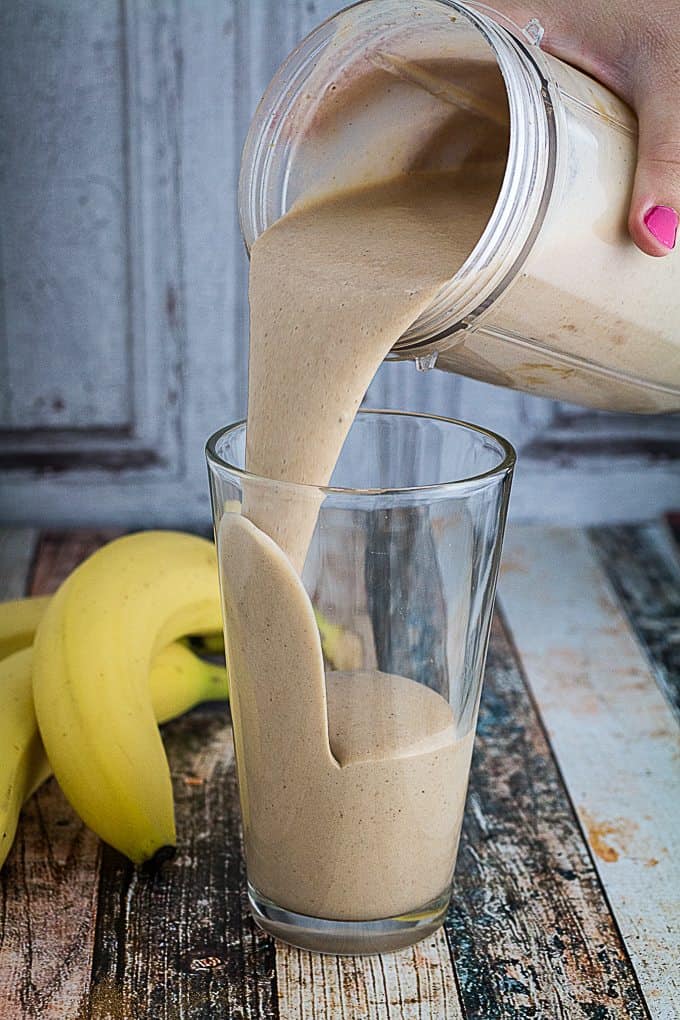 Let's talk about protein powder. First of all, make sure it's gluten free. Next, take some advice from a long-time protein shake drinker: Some brands are delicious, and some brands are terrible. Don't let one bad experience ruin protein shakes for you for the rest of your days.
At the time of this post, I'm using the Whole Foods 365 chocolate protein powder. I just think it tastes really good, has a really nice creamy texture, and works fantastically in recipes like this one. And they're not paying me to say that!
If you're gluten free, always double-check to make sure brands are still making the GF claim before buying! You never know when a product formula will change.
If you're as crazy about this chocolate peanut butter protein shake as I am, you might want to check out a few of these other shakes and smoothies while you're at it!
♡ Smoothies For When You're Done With Your
Chocolate Peanut Butter Protein Shake ♡
So, there you have it. You are now a smoothie ninja, armed with the steps to making the perfect smoothie and a pocket full of recipes.
You got this. ♡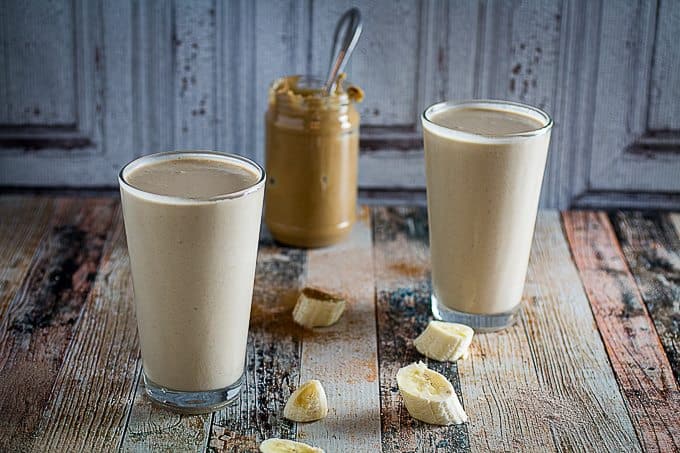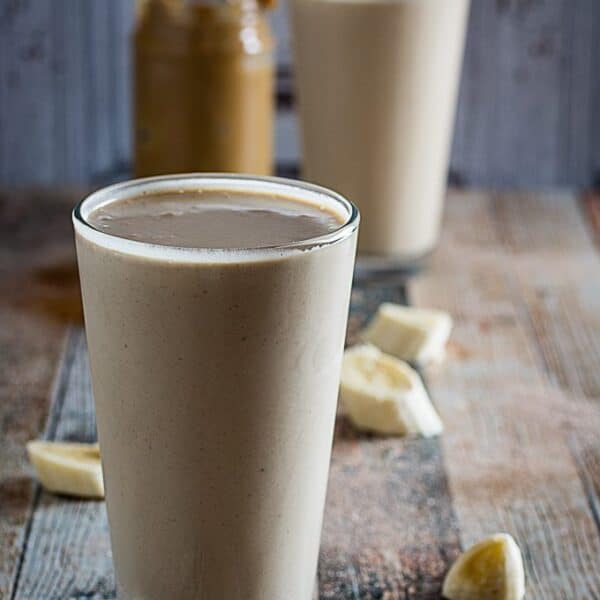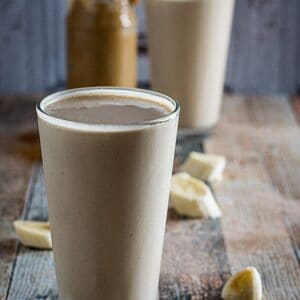 Chocolate Peanut Butter Protein Shake
Chocolate Peanut Butter Protein Shake is smooth and indulgent. Creamy peanut butter, sweet honey, bananas, and chocolate protein powder blended with cinnamon and vanilla will make this your new favorite breakfast!
Ingredients
2

medium

bananas

2

cups

ice

1 1/2

cups

2% milk

1/3

cup

peanut butter

2

tbsp

honey

1

scoop

chocolate protein powder

,

gluten free

1

tsp

vanilla extract

1/2

tsp

cinnamon
Instructions
Place all ingredients into a blender and blend until well combined. Serve immediately.
Notes
Nutrition can vary depending on what type of protein powder you use. 
If you want a lower calorie version, try using powdered peanut butter and nonfat milk. 
Nutrition
Calories:
566
kcal
(28%)
Carbohydrates:
65
g
(22%)
Protein:
27
g
(54%)
Fat:
26
g
(40%)
Saturated Fat:
7
g
(44%)
Trans Fat:
1
g
Cholesterol:
32
mg
(11%)
Sodium:
356
mg
(15%)
Potassium:
1080
mg
(31%)
Fiber:
8
g
(33%)
Sugar:
45
g
(50%)
Vitamin A:
258
IU
(5%)
Vitamin C:
11
mg
(13%)
Calcium:
352
mg
(35%)
Iron:
1
mg
(6%)
We are a participant in both the RewardStyle and Amazon Services LLC Associates Program, which are affiliate advertising programs designed to provide a means for sites to earn advertising fees by advertising and linking to amazon.com and through RewardStyle.