Kale Protein Smoothie made with kale, almond milk, banana, strawberries, peanut butter, and protein powder is the perfect healthy breakfast or post workout snack!
Smoothies are a staple in our house, and some of my favorites are my Chocolate Peanut Butter Protein Shake, Breakfast Pumpkin Pie Smoothie, and my Green Monster Smoothie!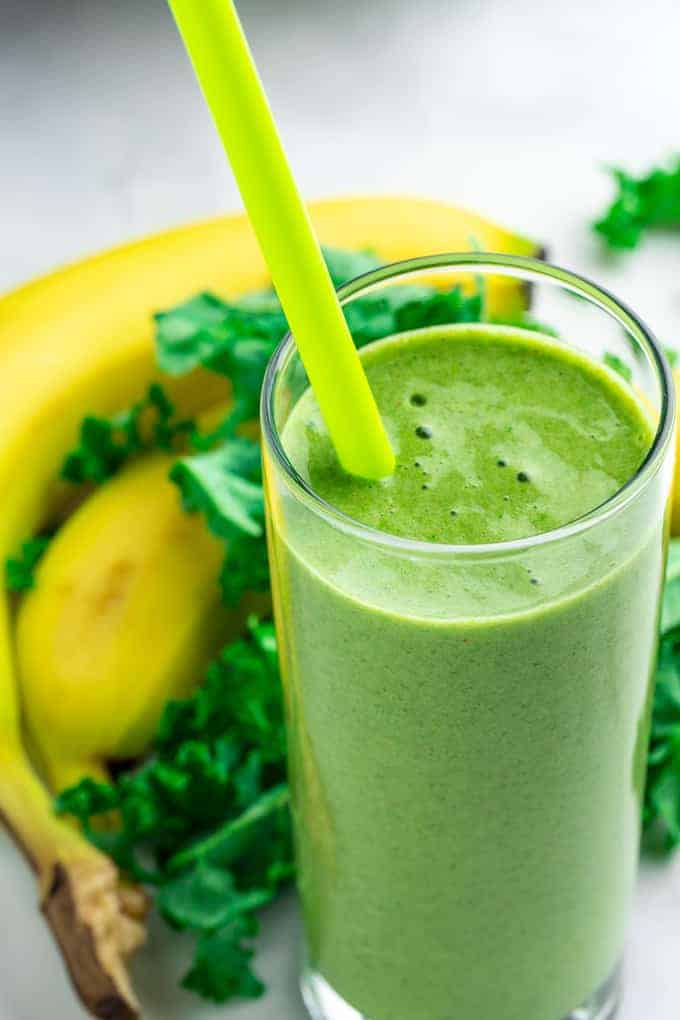 Kale Protein Smoothie Recipe
Kale Protein Smoothie is ~ hands down ~ one of my favorite post workout recipes, made with healthy fruit like bananas and strawberries, along with a few big handfuls of nutrient-packed kale, protein powder, peanut butter, and a dash of cinnamon. I also make this for breakfast, because it's super easy to throw together before you head out the door for work. Plus it's sweet and creamy, you'll barely even know that there's greens in there!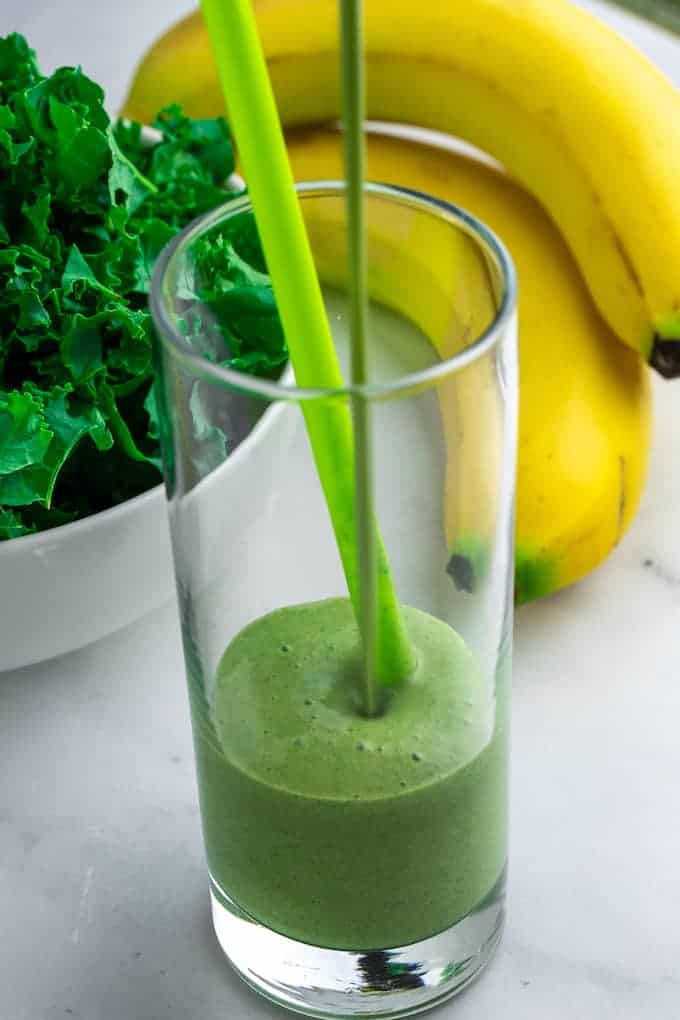 Can you make this kale smoothie ahead of time?
You can easily prep this ahead of time by adding your strawberries and bananas (peeled and cut up) to a plastic bag and freezing them. Then add all of the powdered ingredients to another bag. When it's time to make a smoothie, all you have to add is one fruit bag, one powder bag, and some almond milk. I'll prep a few bags of each of these at the beginning of the week, for quick and easy post workout smoothies!
Is it OK to put raw kale in a smoothie?
It is OK to put raw kale in a smoothie. In fact, it is a healthy choice, because kale is packed with nutrients and fiber! If you're not crazy about kale, you can also swap it out for raw spinach in this recipe.
Are kale smoothies good for you?
Kale smoothies are definitely good for you. But here's a little secret: the American Kale Association has a great PR firm. That's why everyone is suddenly became so crazy about it, and it earned its place in the super food category. Don't get me wrong, it IS healthy for you! It's packed with fiber, iron, calcium, and vitamin A. But so is spinach, so feel free to swap as needed!
How do you prepare kale for a smoothie?
Personally, I like to buy the pre-washed and cut kale, so I can just open the bag and throw it in. If you're buying the kale whole, just chop it into small 1-2″ pieces, cutting off any big fibrous stem pieces. Give it a good wash before putting it into your smoothie, too.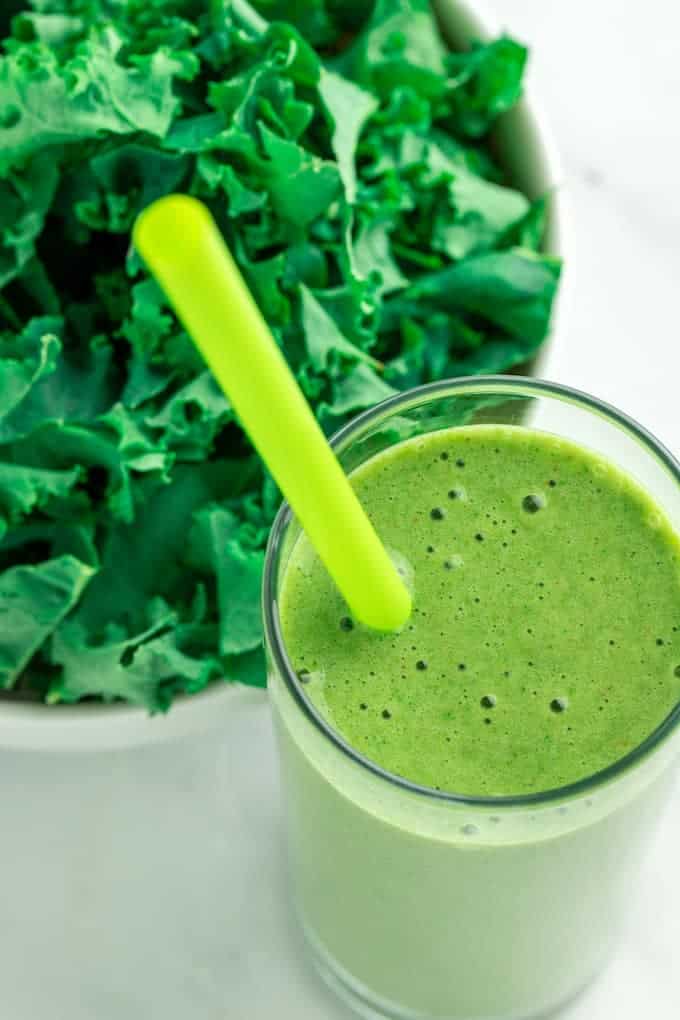 What else can you add to a kale smoothie?
The thing I love most about smoothies is that you can add a lot of different ingredients to change it up each day! Here are some of my favorites for this recipe.
Kiwi
Spinach
Pineapple
Flax or chia seeds
Raspberries
Mango
Lemon or lime
Avocado
Blueberries
Almond butter
Can you taste kale in a smoothie?
No, if you balance your smoothie right you won't even be able to tell that there's kale or other green stuff in there. I like to add a good balance of sweet and sour (fruit), with something to make the smoothie creamy at the same time (like banana and protein). Peanut butter also helps cover up the green flavors. I usually go with powdered peanut butter because it's lower in fat and calories, but you can use regular peanut butter if you want to. Just be aware that it will increase the calories and fat in the nutrition.
More Smoothie Recipes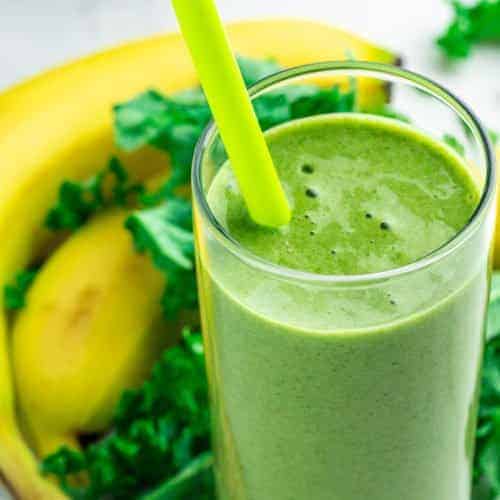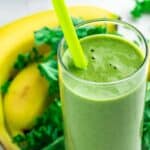 Kale Protein Smoothie
Kale Protein Smoothie made with kale, almond milk, banana, strawberries, peanut butter, and protein powder is the perfect healthy breakfast or post workout snack!
Ingredients
3

cups

kale

chopped

1

cup

unsweetened almond milk

1/2

cup

frozen strawberries

1

scoop

protein powder

strawberry or vanilla flavored

2

tbsp

powdered peanut butter

1

medium

banana

¼

tsp

cinnamon
Instructions
Add everything to the blender and blend until smooth. Serve immediately.
Recipe Notes
Make sure your protein powder and almond milk are gluten free.
You can use strawberry or vanilla protein powder. You can also get a higher or lower protein value depending on what protein powder you use. 
If you want a lower carb option, leave out the banana. This will also cut about 100 calories. 
Nutrition Facts
Kale Protein Smoothie
Amount Per Serving
Calories 428
Calories from Fat 81
% Daily Value*
Fat 9g14%
Cholesterol 50mg17%
Sodium 542mg24%
Potassium 1610mg46%
Carbohydrates 59g20%
Protein 42g84%
Vitamin A 20235IU405%
Vitamin C 294mg356%
Calcium 711mg71%
Iron 6mg33%
* Percent Daily Values are based on a 2000 calorie diet.