Crispy Oven Fried Pork Chops (Gluten Free)
This post may contain affiliate links. Please check our privacy and disclosure policy.
Crispy Oven Fried Pork Chops are crispy, juicy, and insanely easy to make. They only take 30 minutes to make, and best of all they are gluten free!
I love making pork chops because they're quick, easy, and almost always on sale at my local grocery store. If you like these oven fried pork chops, check out my Oven Baked Pork Chops With Apricot Glaze, Instant Pot Pork Chops, Slow Cooker Pork Chops & Potatoes, and Baked Apple Stuffed Pork Chops!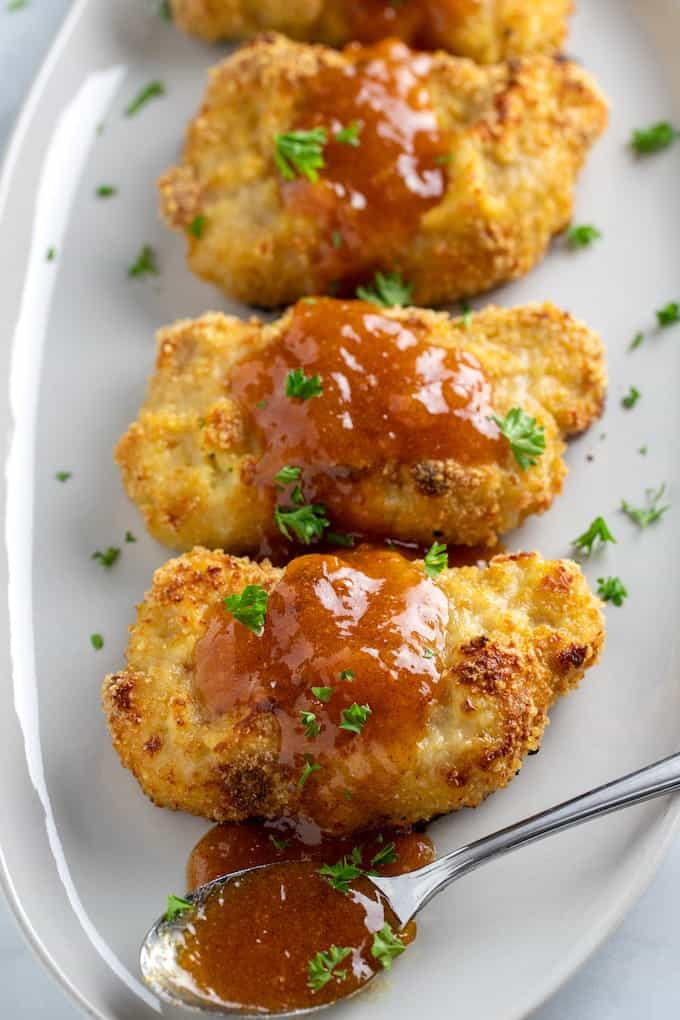 Crispy Oven Fried Pork Chops
Crispy Oven Fried Pork Chops are one of the easiest dinner recipes I have in my repertoire. I make them with gluten free all purpose flour and gluten free breadcrumbs, but you can follow this exact same recipe with regular ingredients if you're not on a gluten free diet.
This recipe also works really well with seasoned or Italian breadcrumbs, but personally I like to add my own seasoning so I can control what they taste like. I also like to add a sweet dipping sauce on the side, like apricot glaze or honey mustard, for some extra flavor.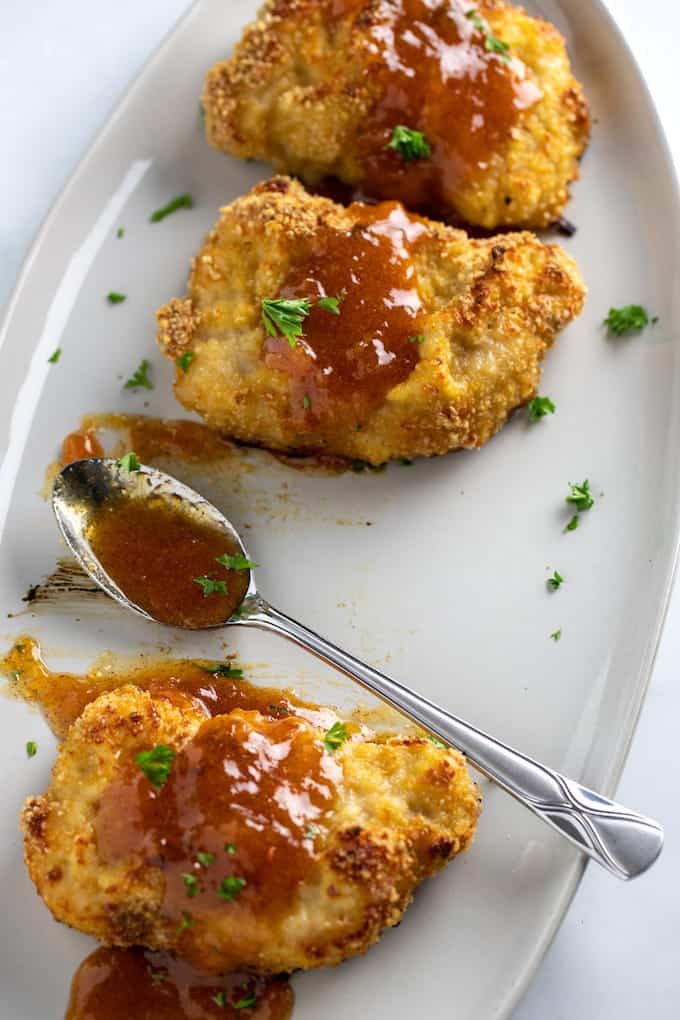 What should pork chops be cooked to?
Your pork chop temp should be 145F, according to the National Pork Board and Pork.org.
Do you cover pork chops when baking?
I do not cover my oven fried pork chops while they're cooking. But if your chops start burning, you can cover them with some tinfoil to prevent that until they reach a safe temperature of 145F.
If your chops are burning, you should check your oven temperature with an oven thermometer to make sure it's cooking true to the set temperature. If the oven is too high, they'll cook too quickly on the outside and not fast enough on the inside.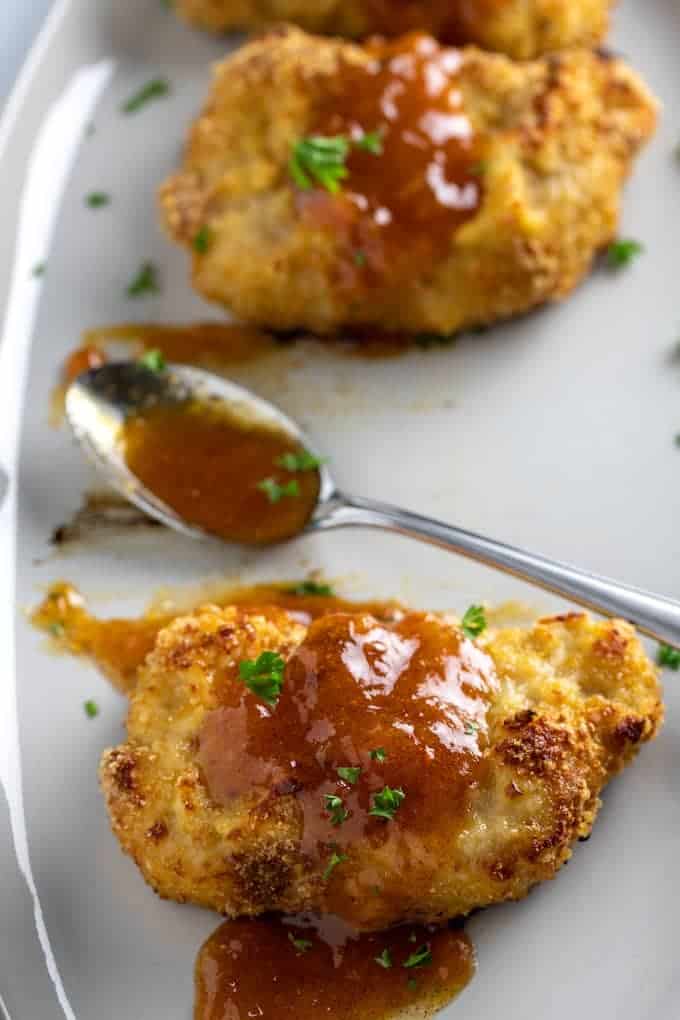 Why are my pork chops tough?
Pork chops can turn out tough if they are overcooked. You want to bring them to the safe internal temperature, but not too much further than that. Also make sure that your oven temperature is set correctly, and that they're not cooking too quickly.
Pork chops can also turn out tough if you're reheating them, or leaving them in the oven to stay warm for too long.
Do Bone-in Pork Chops Cook Faster Than Boneless?
How fast your pork chops cook depend on the thickness. If they are the same thickness, then both bone-in pork chops and boneless pork chops will cook at around the same time.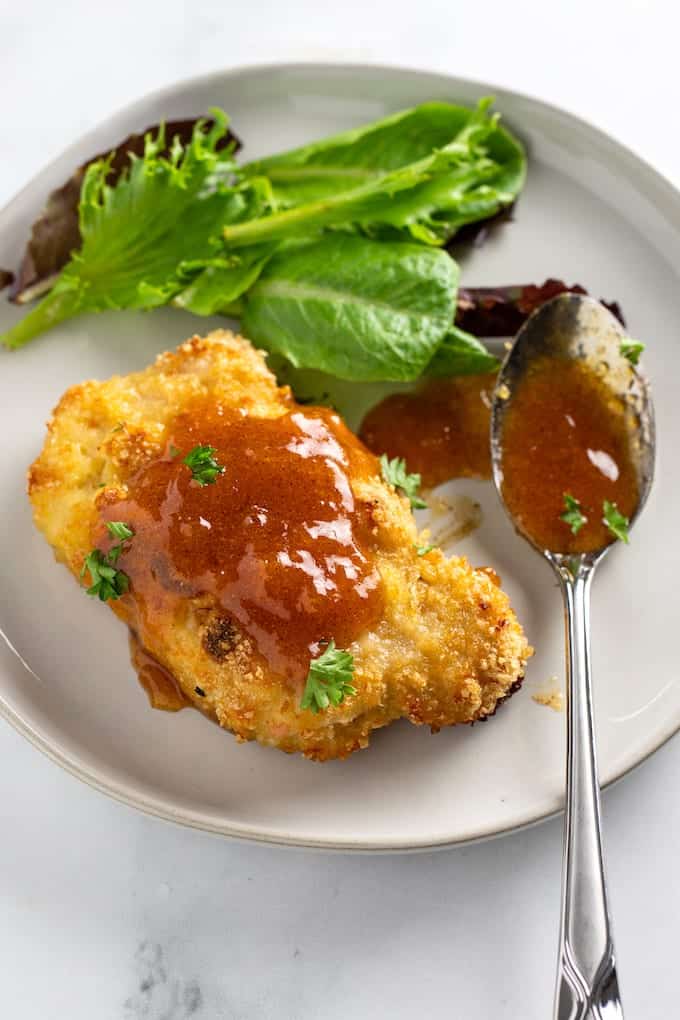 Tips For Making Crispy Oven Fried Pork Chops
You can easily make oven fried pork chops without egg by using whole milk or buttermilk instead. You need some of the fat in there, so I would avoid using skim milk if possible.
If you don't have gluten free breadcrumbs, try using a plain gluten free cereal pulsed in the food processor until it is the consistency of breadcrumbs. I use plain rice Chex cereal for this, it's also a lot cheaper than packaged gluten free breadcrumbs!
You can make oven fried pork chops without flour by just coating the pork chops in the breadcrumbs, then spraying them lightly with cooking oil before baking. They won't have the full breading experience, but you'll get a really nice flavor and crunch from the breadcrumbs. It's totally worth it if that's what you have on hand!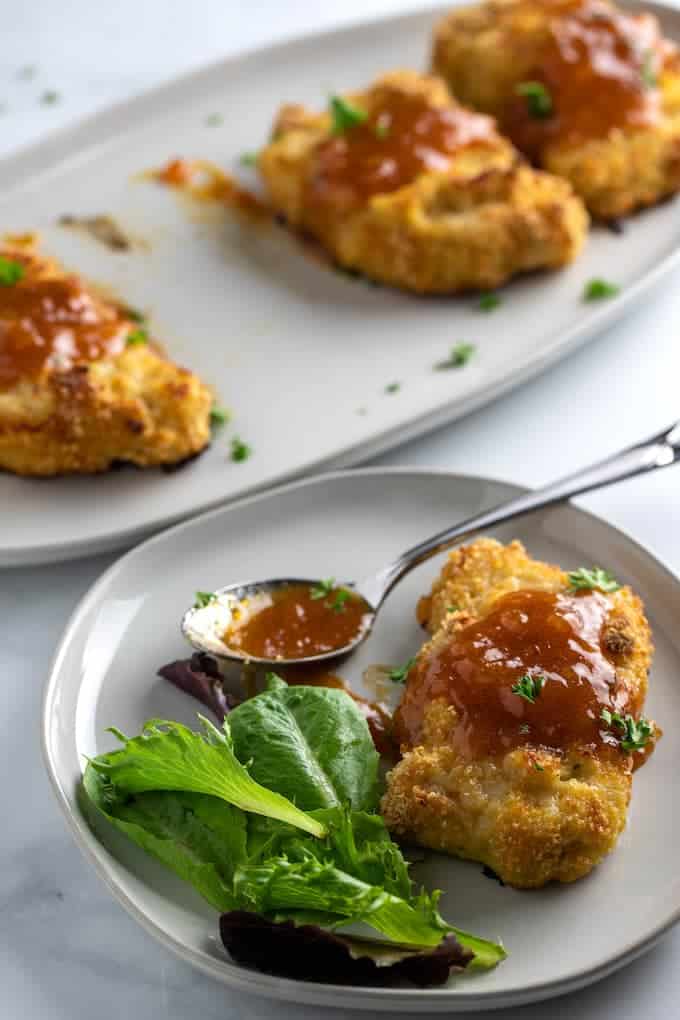 What To Serve With Crispy Oven Fried Pork Chops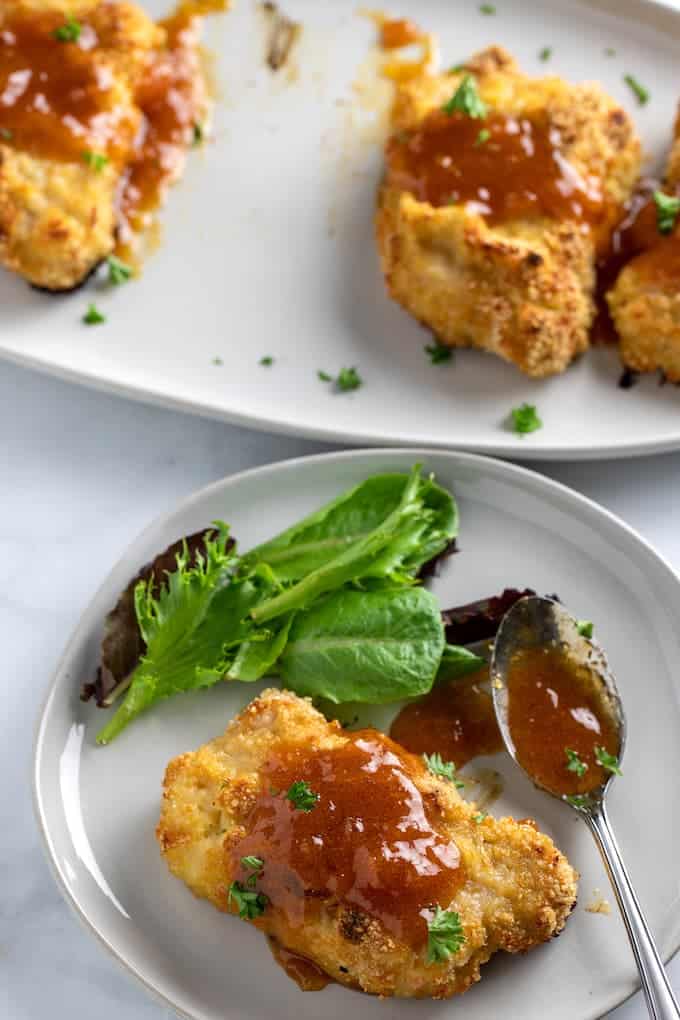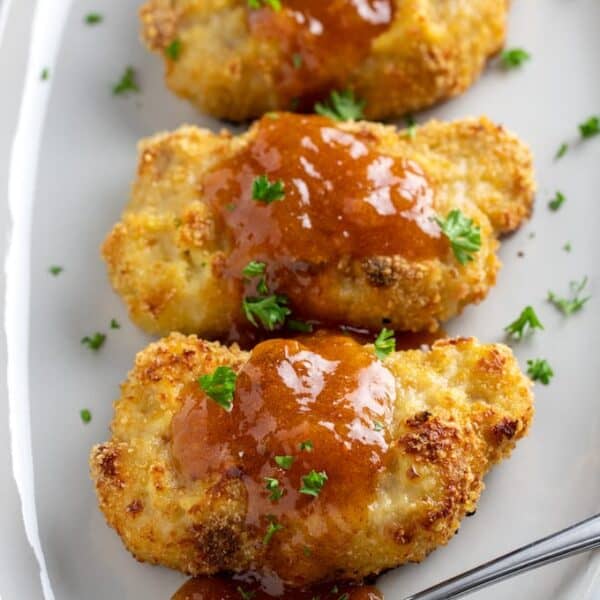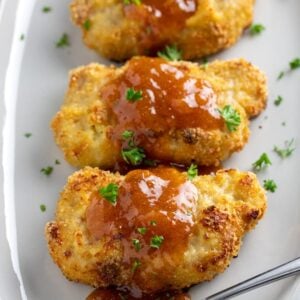 Crispy Oven Fried Pork Chops
Crispy Oven Fried Pork Chops are crispy, juicy, and insanely easy to make. They only take 30 minutes to make, and best of all they are gluten free!
Ingredients
For the Chops
4

boneless pork loin chops

,

1-inch thick, trimmed of fat

1

cup

gluten free all-purpose flour

1

cup

gluten free breadcrumbs

,

plain

1/4

cup

milk

3

large

eggs

,

lightly beaten

1

tsp

garlic powder

1

tsp

paprika

1/2

tsp

sea salt

1/2

tsp

black pepper
For the Apricot Glaze
4

tbsp

apricot preserves

1

tsp

dijon mustard

1/4

tsp

garlic powder

1/4

tsp

cayenne pepper

,

(optional for heat)
Instructions
Preheat oven to 450F. Line a baking sheet with parchment paper and set aside.

In three large bowls, place eggs and milk whisked together in one bowl, flour in another bowl, and bread crumbs mixed with the spices in the third bowl.

Take a pork chop and dip it in the egg mixture, and then in the flour and shake lightly. Then in the egg mixture again, and into the breadcrumbs. Place the chop onto a sheet pan, and repeat with the other chops, leaving room between each one. Spray lightly with cooking oil, just until the breadcrumbs look wet.

Bake pork chops for

20-25 minutes

, or until they reach an internal temperature of 145F and the breadcrumbs are golden brown.

Optional: whisk together ingredients for the apricot glaze and use as a dipping sauce for the pork chops.
Notes
Click on the time in the instructions to start a timer!
If you notice that your pork chops have started burning on the outside before they're reached an internal temperature of 145F (for food safety), you can cover the dish with tinfoil. Use oven mitts, it's hot! This usually happens if your oven is cooking too hot, so I also recommend lowering the temperature by 30-50 degrees.
Nutrition
Calories:
515
kcal
(26%)
Carbohydrates:
54
g
(18%)
Protein:
40
g
(80%)
Fat:
16
g
(25%)
Saturated Fat:
5
g
(31%)
Cholesterol:
249
mg
(83%)
Sodium:
445
mg
(19%)
Potassium:
616
mg
(18%)
Fiber:
4
g
(17%)
Sugar:
11
g
(12%)
Vitamin A:
625
IU
(13%)
Vitamin C:
1.7
mg
(2%)
Calcium:
74
mg
(7%)
Iron:
2.7
mg
(15%)
We are a participant in both the RewardStyle and Amazon Services LLC Associates Program, which are affiliate advertising programs designed to provide a means for sites to earn advertising fees by advertising and linking to amazon.com and through RewardStyle.