Easy One Pot Chicken Parmesan & Pasta
This post may contain affiliate links. Please check our privacy and disclosure policy.
An incredibly Easy One Pot Chicken Parmesan & Pasta dinner for your busy weeknight. Melted mozzarella cheese, savory marinara sauce, chicken, gluten free pasta, and fresh basil, ready in less than 30 minutes!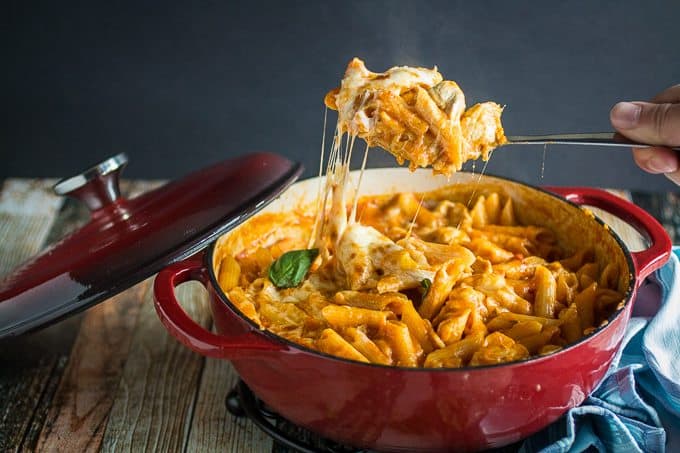 I'm not afraid to admit that after a long day at work, cooking is one of the last things on my mind. But a girl's gotta eat, right? Here is one of my go-to one pot pasta dishes for even the busiest weeknight.
Easy One Pot Chicken Parmesan & Pasta has all of the things you love about chicken parmesan: The chicken (of course), the ooey-gooey melted mozzarella and parmesan cheese, and that home-cooked-straight-out-of-the-oven-Italian-dinner feel, plus enough pasta to feed a hungry family.
All of this, ready in under 30 minutes!
When life gets a little crazy, sometimes you need to just sit back and enjoy the ride.
And sometimes, the ride is just a little better when covered in melted mozzarella cheese.
I think that's how that goes, right?
Either way, I'm enjoying a delicious bowl of this Easy One Pot Chicken Parmesan as I type this, and everything just seems right with the world.
Ahhh… delicious.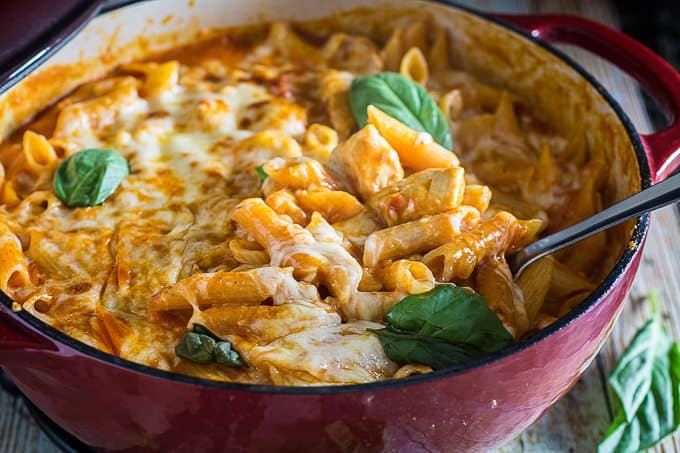 I hope your weekend was full of wonderful and exciting adventures. While mine may not have had any adventures, it was certainly exciting.
First, I made a super-amazing no-bake cherry cheesecake. We had a fantastic photo shoot, even managed to get a few bites in. Then, when going to put it away, Andrew accidentally dropped it on the floor.
…I'm not mad. Really, I'm not.
But, in some countries, that's grounds for divorce.
So, to clean the cherry cheesecake out of his pants, Andrew set them to soak in the bathtub with some stain cleaner. While we were waiting, we did our usual routine of watching Game of Thrones, and eating the piece of cheesecake that made it out alive. It was really a very pleasant night.
Until we heard a knock on the door.
::suspenseful music::
It was the downstairs neighbor, kindly letting us know that it was raining from the ceiling. The bathtub was still running, and the great apartment flooding of 2016 had begun.
So, we spent the rest of our evening cleaning the flood that was in our bathroom/bedroom/hallway, apologizing to our neighbors (apparently we took several circuit breakers – oops!), and washing all of the once-clean towels.
It's moments like these that you could really just use a cheesecake, amirite?
On the plus side, we accidentally flooded the neighbor that loves bass music. At 11pm. Every. Night.
On the down side, the water must have missed the subwoofer.
On the other plus side, the cherry cheesecake stain came out. Win!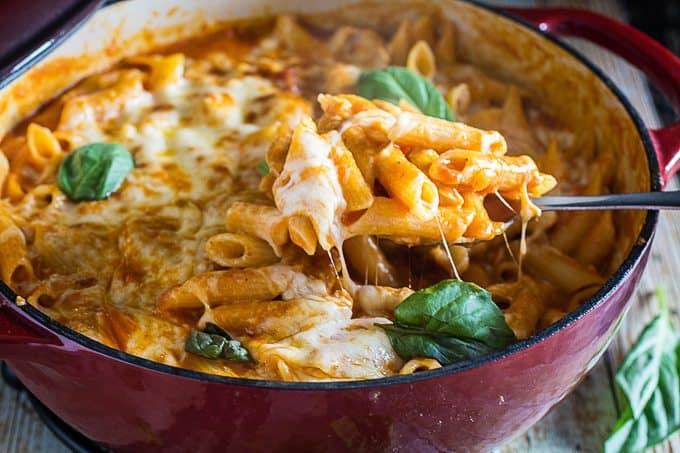 Alright, enough about my week, let's get back to what you're really here for. The food!
Are you building up your one pot recipe repertoire yet? Because I promise you, this Easy One Pot Chicken Parmesan is going to be in it. If you're a chicken parm fan, that is. One bite, and you'll be hooked.
I used gluten free penne for this. The trick is to only cook until it's just al dente. The pasta will finish cooking itself with the heat from the dish! If you take it too far, it'll be sad and mushy. Al dente (just cooked) is just where you want it.
If you're a fan of quick Italian one pot dinners, you'll probably also like my One Pot Easy Chicken Alfredo! I'd also like to recommend my Easy Marinara Sauce for the purpose of this recipe.
This one is very similar, but less cheese sauce and more marinara. But still plenty of cheese. If that makes sense.
My favorite part about this dish, besides for the hot melty cheese and the fresh basil, is how FAST it is to make. Seriously. I get home from work around 6pm, and have this on the table by 6:30. The other best part about this meal? You'll only have one dish to clean up.
Fast. Delicious. Easy Cleanup.
Now that's my kind of recipe.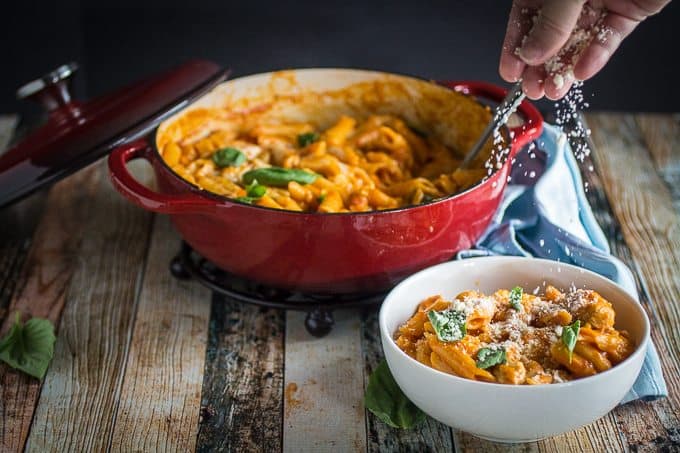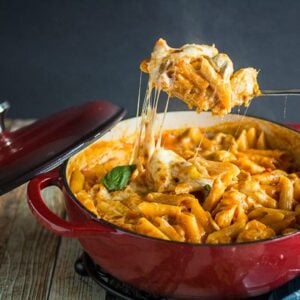 Easy One Pot Chicken Parmesan & Pasta
An incredibly Easy One Pot Chicken Parmesan & Pasta dinner for your busy weeknight. Melted mozzarella cheese, savory marinara sauce, chicken, gluten free pasta, and fresh basil, ready in less than 30 minutes!
Ingredients
2

tbsp

extra virgin olive oil

2

tbsp

unsalted butter

1 1/2

lbs

chicken breast

,

cut into 1-inch pieces

1

tsp

garlic powder

1/2

tsp

kosher salt

1/2

tsp

black pepper

12

oz

gluten free penne pasta

2 1/2

cups

chicken or vegetable broth

,

gluten free

2

cups

marinara sauce

,

gluten free

1 1/2

cups

shredded mozzarella

1

cup

parmesan or romano cheese

,

shredded or grated

1/2

bunch

fresh basil

,

chopped (for garnish)
Instructions
In a dutch oven over medium heat, add olive oil and butter. When butter melts, add chicken, garlic, salt, and pepper. Stir occasionally until chicken is just done (about

10 minutes

).

Add penne, broth, and marinara sauce. Stir all ingredients together. Bring to a simmer, then lower heat slightly. Cook until pasta is al dente, about

10 minutes

.

Stir in 1 cup mozzarella and all parmesan cheese. Use remaining 1/2 cup mozzarella to sprinkle on top.

If desired, set dutch oven under broiler for

2-3 minutes

, or until cheese is browned on top. Garnish with basil and serve.
Notes
Click on the time in the instructions to start a timer!
Nutrition
Calories:
576
kcal
(29%)
Carbohydrates:
49
g
(16%)
Protein:
43
g
(86%)
Fat:
24
g
(37%)
Saturated Fat:
11
g
(69%)
Polyunsaturated Fat:
1
g
Monounsaturated Fat:
8
g
Trans Fat:
1
g
Cholesterol:
116
mg
(39%)
Sodium:
1620
mg
(70%)
Potassium:
738
mg
(21%)
Fiber:
2
g
(8%)
Sugar:
5
g
(6%)
Vitamin A:
1068
IU
(21%)
Vitamin C:
7
mg
(8%)
Calcium:
359
mg
(36%)
Iron:
2
mg
(11%)
We are a participant in both the RewardStyle and Amazon Services LLC Associates Program, which are affiliate advertising programs designed to provide a means for sites to earn advertising fees by advertising and linking to amazon.com and through RewardStyle.