Spicy Sausage Cream Cheese Dip
This post may contain affiliate links. Please check our privacy and disclosure policy.
Spicy Sausage Cream Cheese Dip is a spicy, cheesy dip made with poblano peppers, sausage, diced tomatoes, spices, and two kinds of cheese. It's rich and creamy, and will be the hit of your next party. Plus, it only takes about 20 minutes to make!
Sausage Dip is the perfect party food to pair with homemade dill pickle dip, crockpot buffalo chicken dip, and spinach artichoke dip. Plus, all of these dips are easy to make and packed with flavor your guests will love!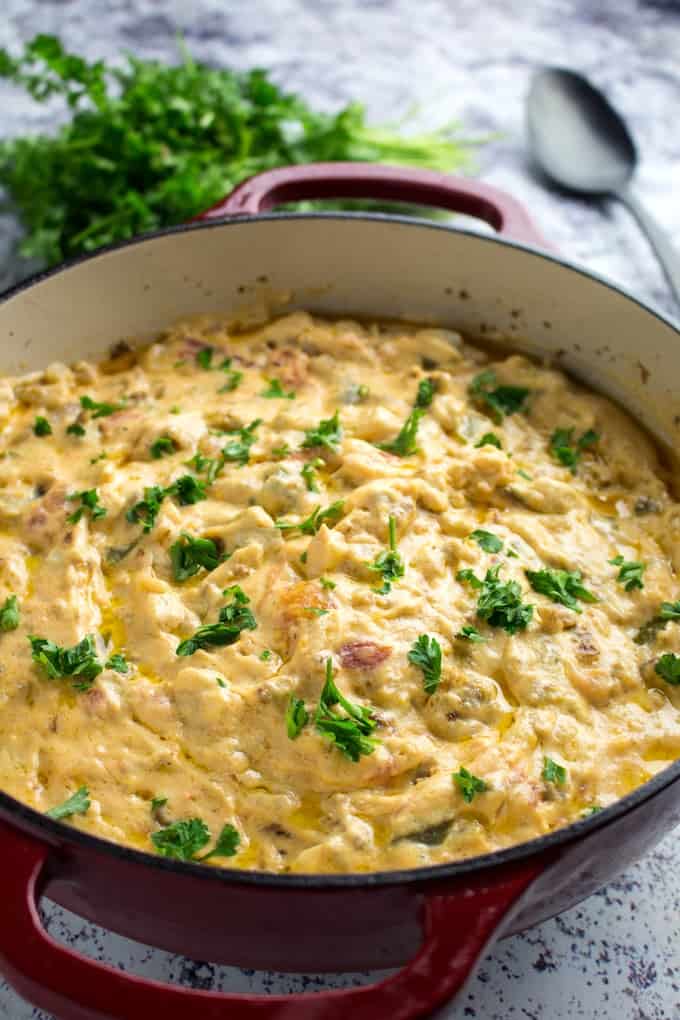 Spicy Sausage Cream Cheese Dip
We all know that one guy that always brings a big bowl of dip to the party, right? It's their signature move, the thing they're known for at every gathering. Sometimes it comes in several layers, and it almost always includes copious amounts of cheese. Well, GET READY, because you're about to dethrone the dip-master with this spicy sausage cream cheese dip!
Sausage dip is smooth and creamy, with savory sausage and a kick of cayenne pepper. It's a quick and easy appetizer, packed with flavor that your party guests are going to go crazy for. And you'll love that it only takes a few short minutes to make!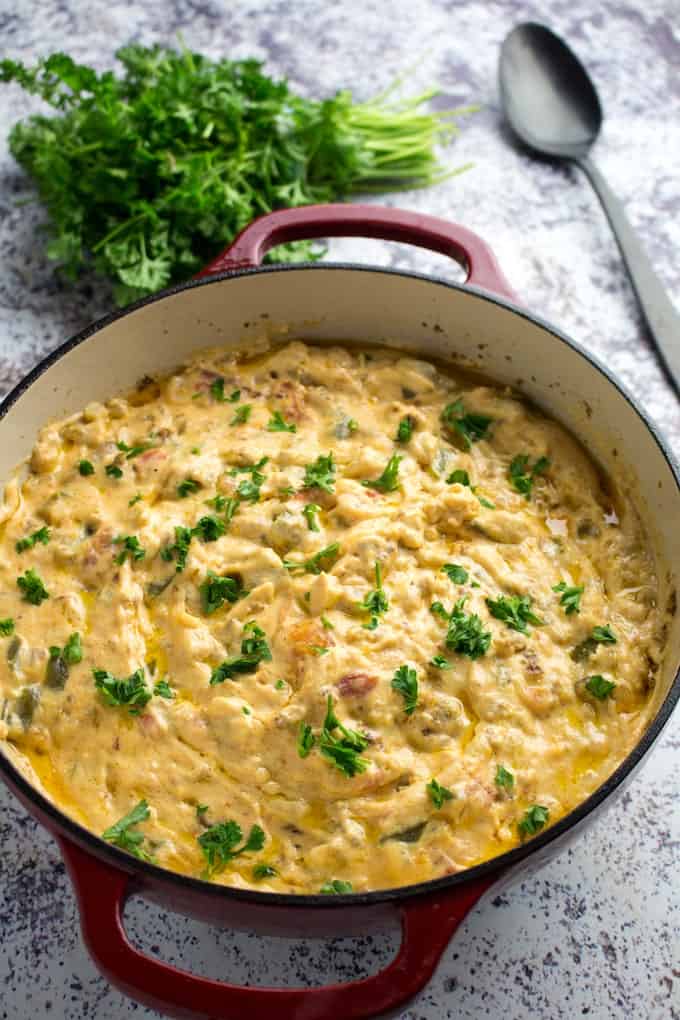 What other cheese is in spicy sausage cream cheese dip?
Sausage and cream cheese dip can use a few different cheeses. I like to use sharp cheddar because it adds a really nice flavor when combined with the sausage. You can also use a Monterey jack, which is similar in taste to the cheddar but a little more mild. If you want to kick up the spice, you can get a pepper jack cheese, as those flavors would work really well with this recipe. Pepper jack is basically Monterey jack, but with spicy peppers in it.
Mozzarella would also work with sausage dip, and would give you a stretchy cheese effect when you go to dip your chips. It has a much more mild taste, so I'd hesitate to switch it 1-for-1 with cheddar. But if you're in a pinch it will work. You can also combine the cheddar and mozzarella to get that stretchy cheese while still keeping all of the flavor.
And, of course, the cream cheese. After all, this is sausage cream cheese dip. This is especially important to keep that creamy texture everyone is looking for.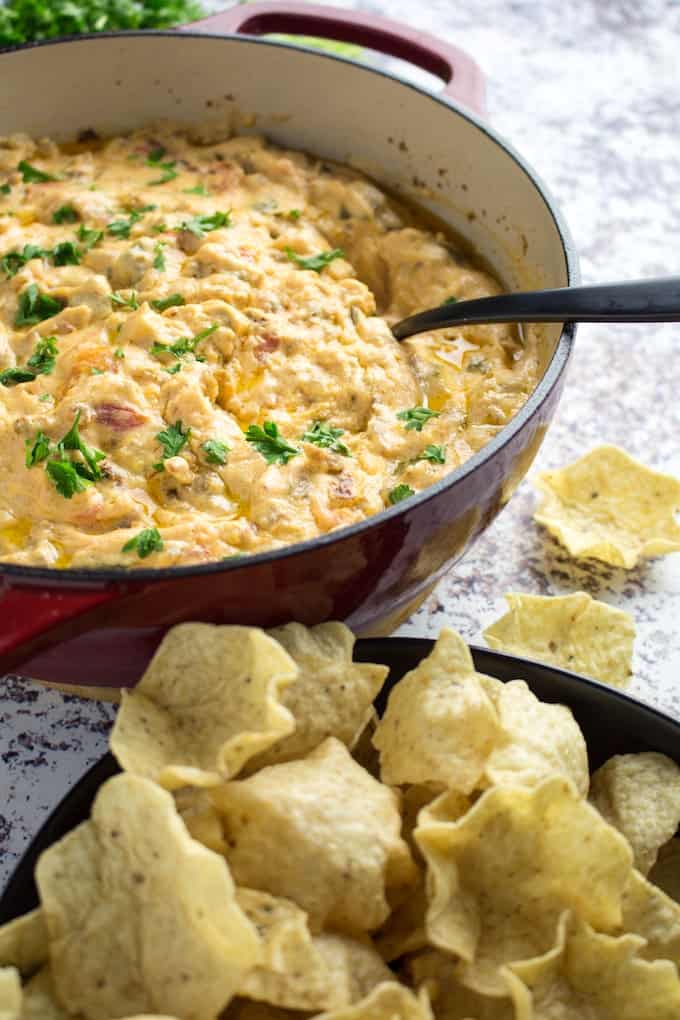 What meat can you use in a spicy sausage dip recipe?
Obviously sausage dip contains – you guessed it – sausage. But there are so many different kinds, how do you know which one to choose?! Personally, I like a mild Italian ground sausage. This lets me control the spices later on in the recipe, so I can add any heat as I please. But a lot of people like to get a spicy meat for their sausage dip recipe. Just make sure you can handle the heat! There's also sweet sausage. I'm not a huge fan of using sweet sausage in this sausage dip recipe, personally I don't think it goes well with cheese. But if you like it, that's what matters!
Also, make sure you get a sausage that doesn't have casing, it's just the ground chuck. The first time I made this sausage dip recipe, I bought the kind with the casing on and spent way too much time removing it so I could get cooking. Just save yourself the headache now.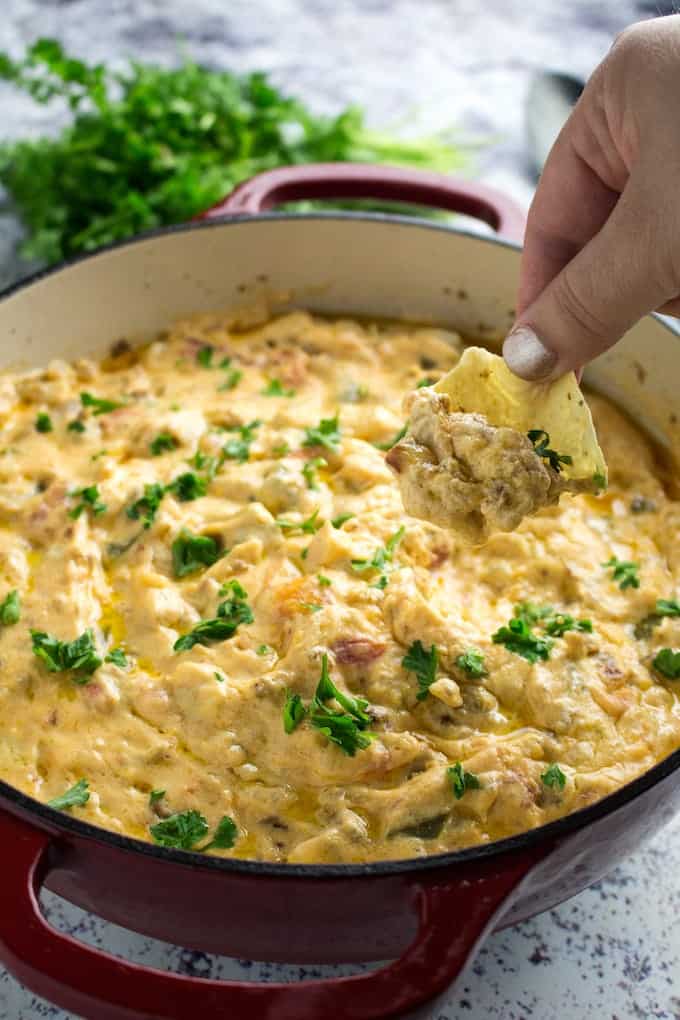 How to lighten up a sausage and cheese dip
Ok, I know this is a sausage and cheese dip. But let's not get caught up on labels. It's OK to substitute something lighter in here, like lean ground turkey sausage. If you go the poultry route, just make sure you're cooking it all the way through when you brown the meat. Another way to lighten up sausage and cheese dip is to use lower fat cheeses. You can substitute the cream cheese for Neufchatel cheese, and I guarantee you won't even notice a difference. You can also use light sour cream without sacrificing much flavor or texture.
Neufchatel Cheese vs Cream Cheese?
Neufchatel is actually the oldest kind of cheese in France, but you can pick it up in the cream cheese section of your local grocery store. The difference between cream cheese and Neufchatel cheese is that cream cheese has actual cream in it, while Neufchatel cheese only uses milk. This means the Neufchatel cheese is naturally lower in fat. But it has a very similar taste and texture, so much so that it's basically interchangeable in recipes like sausage and cream cheese dip.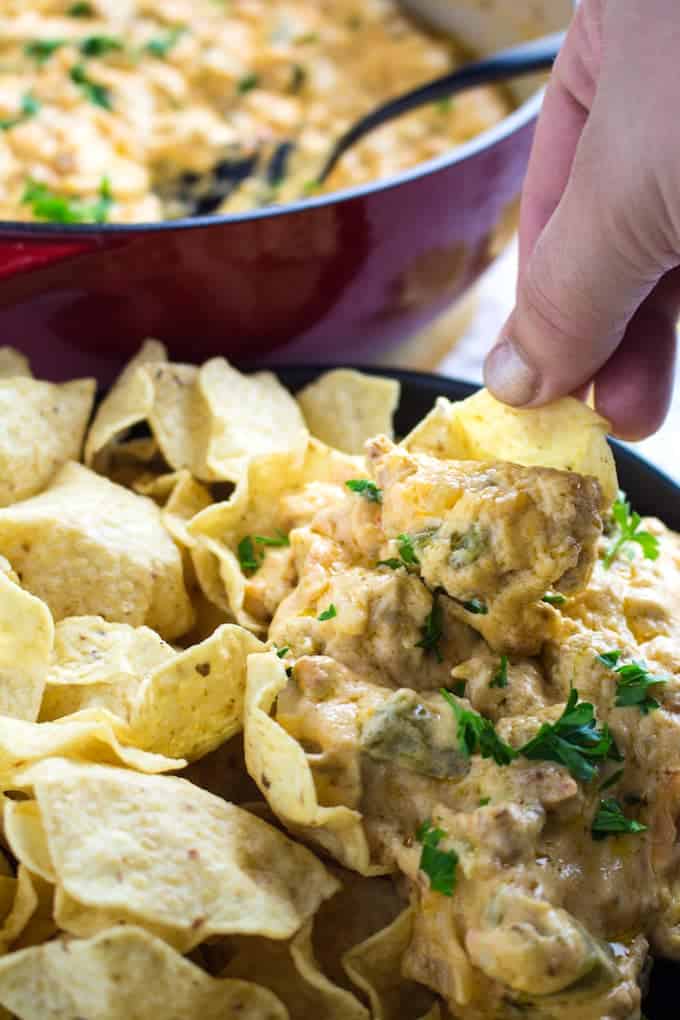 How to dial up the heat and make an even hotter spicy sausage dip?
We've already gone over two ways to make this spicy sausage and cheese dip recipe into an even spicier sausage dip. But let's recap here, and maybe throw in a few more ways to kick up the heat.
You can trade out the ground sausage for a spicy ground sausage. Just remember, you can't control the spice with this option, so make sure you like the sausage before using it for this recipe.
You can also sub in pepper jack for some of the cheddar to add some spice. Try to use a block of cheese and shred it yourself, otherwise it might not melt quite right!
Increasing the cayenne pepper from 1/4 tsp to 1/2 tsp. I wouldn't go higher than that, unless you're a professional. In which case, at your discretion, sir. 
Try using hotter peppers in the recipe. I used a poblano, and that's plenty spicy for me. But you can try a hotter pepper, or even some minced jalapeño. Remember, if you do use a hotter pepper, a lot of the heat is in the seeds. Personally, I always take the seeds out and discard them, or you might turn spicy sausage dip into HOT HOT HOT sausage and cream cheese dip!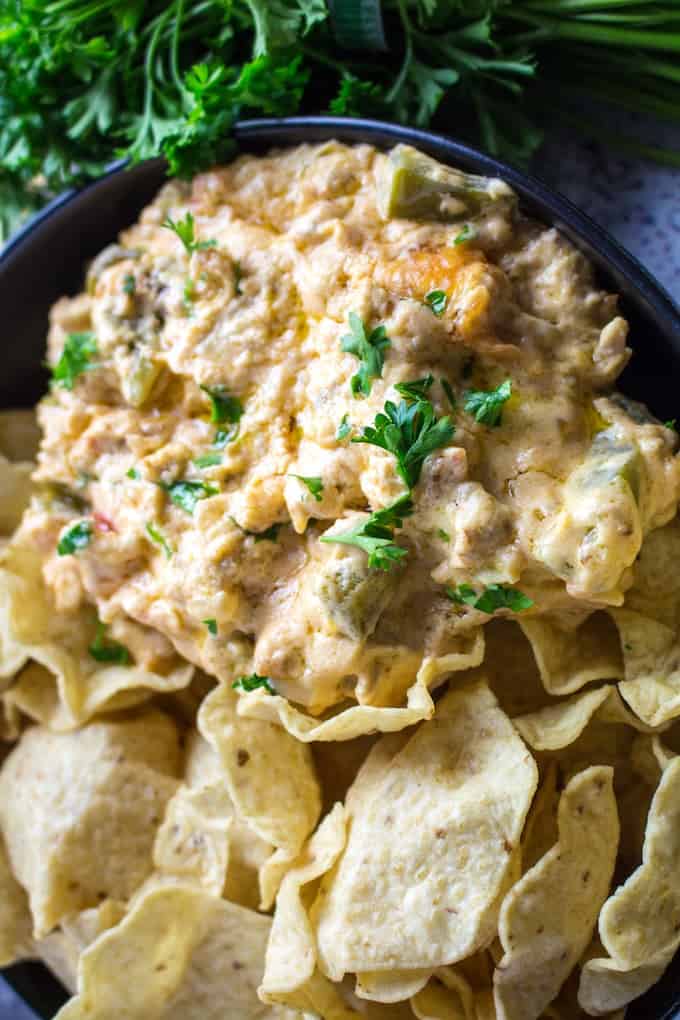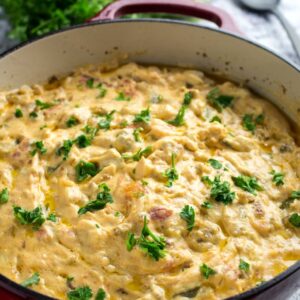 Spicy Sausage Cream Cheese Dip
Spicy Sausage Cream Cheese Dip is a spicy, cheesy dip made with poblano peppers, sausage, diced tomatoes, spices, and two kinds of cheese. It's rich and creamy, and will be the hit of your next party. Plus, it only takes about 20 minutes to make!
Ingredients
4

tbsp

unsalted butter

2

8oz packages

cream cheese

2

cups

shredded cheddar cheese

1 1/2

lb

ground sausage

,

mild or hot (preference)

1

14oz can

diced tomatoes

,

drained

1

cup

sour cream

1

medium

poblano pepper

,

diced

1

medium

onion

,

diced

1/4

tsp

cayenne pepper

1

bunch

chives (optional topping)

,

diced
Instructions
In a medium dutch oven sauté butter, onion, and poblanos. Add ground sausage, stirring occasionally until cooked through, about

10 minutes

. 

Stir in cayenne and diced tomatoes. Add cream cheese and sour cream, stirring until melted and mixed through, about

5 minutes

. Add sour cream and cheddar and stir. 

Once everything is combined and thoroughly melted, top with chives and serve.
Notes
Click on the time in the instructions to start a timer! 
Nutrition
Calories:
368
kcal
(18%)
Carbohydrates:
4
g
(1%)
Protein:
13
g
(26%)
Fat:
34
g
(52%)
Saturated Fat:
17
g
(106%)
Cholesterol:
98
mg
(33%)
Sodium:
530
mg
(23%)
Potassium:
265
mg
(8%)
Fiber:
1
g
(4%)
Sugar:
3
g
(3%)
Vitamin A:
855
IU
(17%)
Vitamin C:
10
mg
(12%)
Calcium:
171
mg
(17%)
Iron:
1
mg
(6%)
We are a participant in both the RewardStyle and Amazon Services LLC Associates Program, which are affiliate advertising programs designed to provide a means for sites to earn advertising fees by advertising and linking to amazon.com and through RewardStyle.