Easy Strawberry Cobbler Recipe is a sweet brown sugar strawberry filling topped with a crispy buttery topping. A super simple dessert recipe that only takes a few minutes to throw together and is perfect to bring to a potluck!
If you love this easy strawberry cobbler recipe, check out my Blueberry Cobbler, Cherry Cobbler, and Slow Cooker Apple Crisp!

Easy Strawberry Cobbler Recipe (Gluten Free!)
Easy Strawberry Cobbler Recipe is one dessert that everyone loves to make in the springtime or summer. But to be honest, I actually love to serve is around the holidays! I've brought this to family brunches, and it's always a big hit at any potluck I bring it to, no matter what time of year it is. And as an added bonus, it's made from frozen strawberries, so you don't have to worry about finding berries when they're out of season!
What can I make with strawberries?
My best answer is Strawberry Cobbler! This is one of my favorite recipes that can be assembled in minutes. It's perfect for brunch or whenever company shows up. But here's a little more inspiration for you, just in case!
What is strawberry cobbler?
Strawberry Cobbler is an old fashioned dessert with southern roots. This dish is sweet strawberries (in this case, frozen) with a cake-like topping made out of gluten free dough. I like it because it's quick to put together and the whole family loves it. You can use this recipe for strawberry pie filling, too! Just simmer it in a pan over medium heat until it reduces down to a syrup.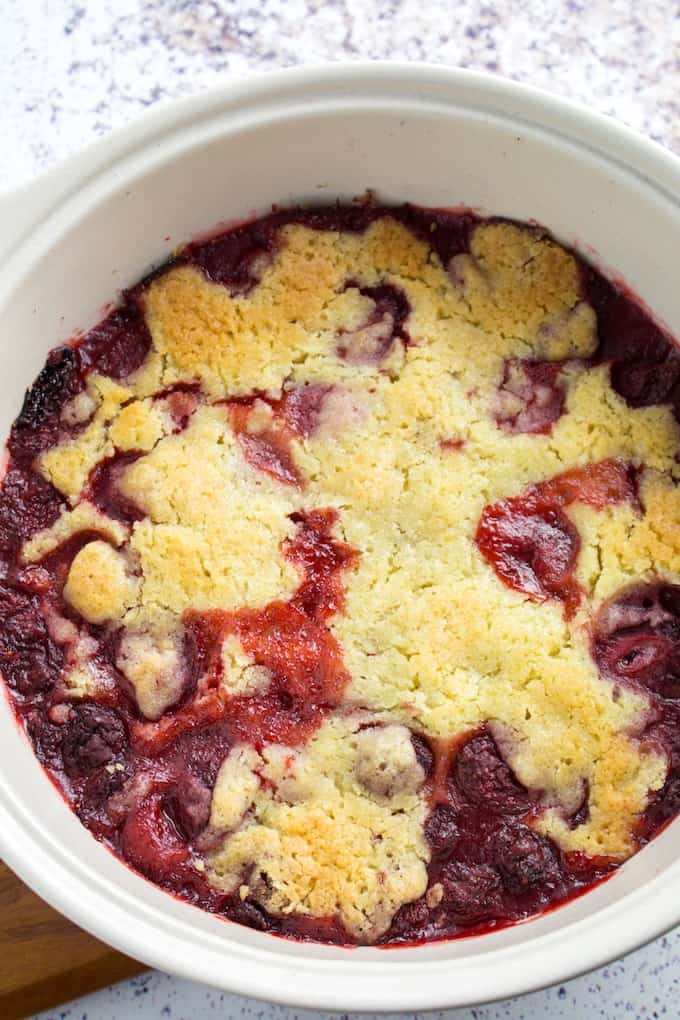 How do you make mixed berry cobbler?
One of the best things about Strawberry Cobbler is that you can change up the recipe simply by adding blueberries or raspberries for an extra burst of flavor. Depending on the season, some berries are more readily available, but there's always frozen! And this way, you don't have to worry about them turning if you find yourself too busy to cook one week. They're ready when you are. Ahh… convenience!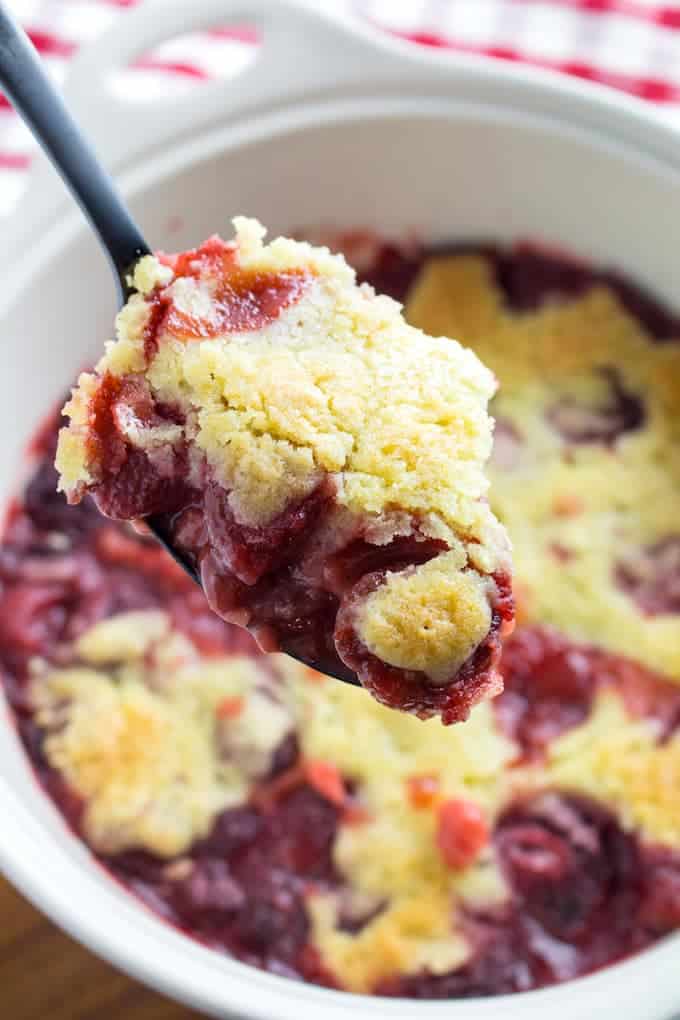 How to make strawberry cobbler?
If you're learning how to make strawberry cobbler for the first time, don't worry, it's easy! All you have to do is mix your filling ingredients together, make your batter, then assemble. That's it!
Make a crumble using gluten free flour, butter, and sugar. I like using brown sugar for extra flavor. Use a food processor to mix until it's crumbly and drop the chunky little clumps of sweetness over the strawberries, then bake. You can also add gluten free rolled oats to this mixture for some extra texture.
Another way is to just make a cake like topping (this is really the easiest!) and once the strawberry mixture is in the baking dish, either spread the batter on top or drop it in dollops evenly over the dish. Before you know it, you'll be teaching everyone else how to make strawberry cobbler!
How long do you cook strawberry cobbler?
Preheat your oven to 375 degrees. Strawberry Cobbler cooks in about 35 to 45 minutes depending on the size dish you use.
Don't forget to have some whipped cream or ice cream ready. Think about it… Warm strawberry cobbler, with melty vanilla ice cream, and maybe some chocolate chips on top for good measure. It's like heaven on a plate!