Oven Fried Fish (Oven Fried Tilapia) is a quick and easy weeknight dinner, made with fresh tilapia filets seasoned and breaded in gluten free breadcrumbs, then "fried" on a sheet pan in the oven!
I'm all about healthy seafood dishes, because they're easy to make and fish cooks really, really fast! If you're looking for more, check out my Low Country Shrimp Boil, Oven Baked Coconut Shrimp, Almond Parmesan Crusted Tilapia, and Blackened Mahi Mahi w/Homemade Cajun Spice Rub!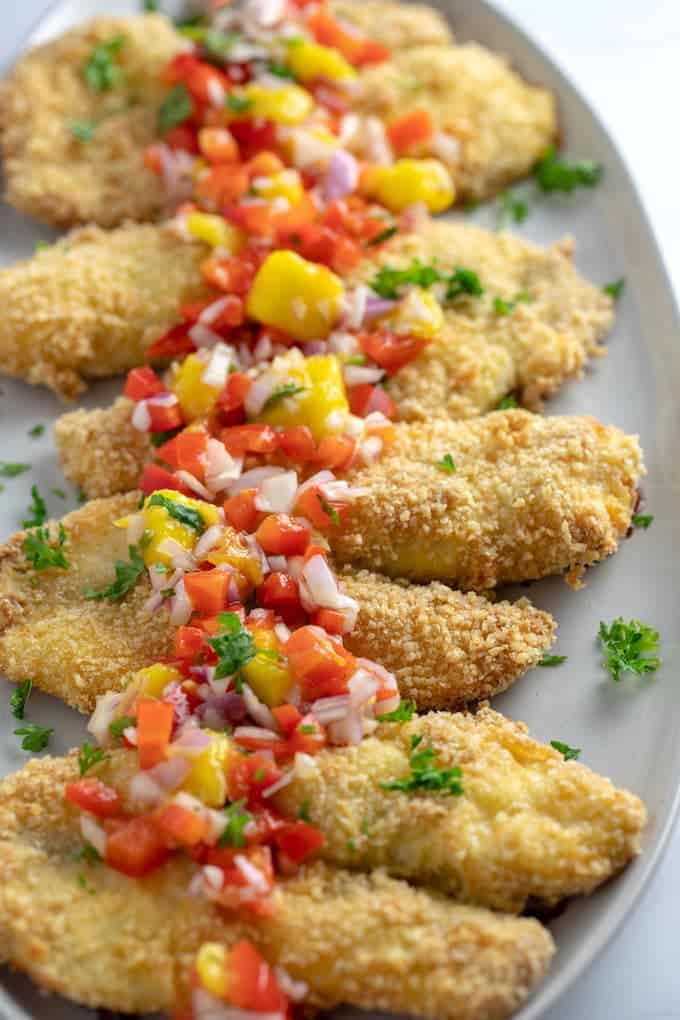 Oven Fried Fish (Oven Fried Tilapia)
Oven Fried Fish, aka Oven Fried Tilapia, is a super easy weeknight dinner recipe that my family has been making since I can remember. Plus, it's really easy to make gluten free! All you need is some fresh tilapia filets (or totally defrosted ones), gluten free breadcrumbs, gluten free flour, and some egg whisked together with water. You can add seasoning or leave it plain, it's your preference. I also love to top my oven fried fish with mango salsa, for some extra flavor!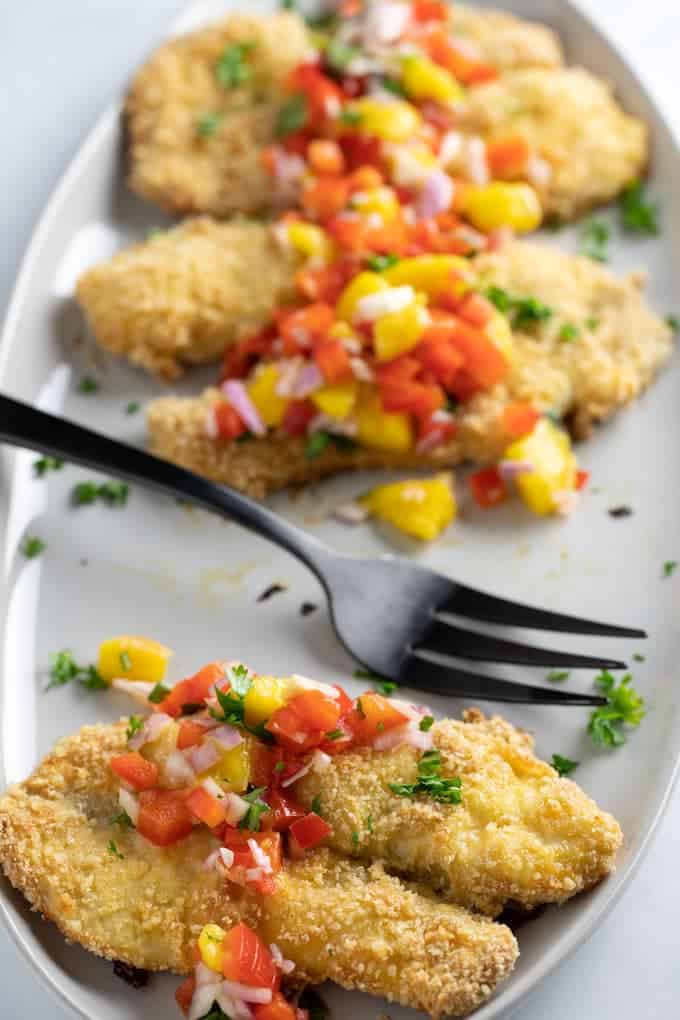 How to Make Crunchy Oven Fried Fish
The crunch in oven fried fish is all about the oil and cooking temperature. Sure, we're not using oil the same way we would if we deep fried it, but you need to make sure the breading looks wet enough before it goes in the oven, because dry breading won't crisp up properly.
You also want to make sure that your oven is cooking at the correct temperature. We're cooking at 450F, but only for 10 minutes which gives the tilapia time to cook through and the breading to become golden brown.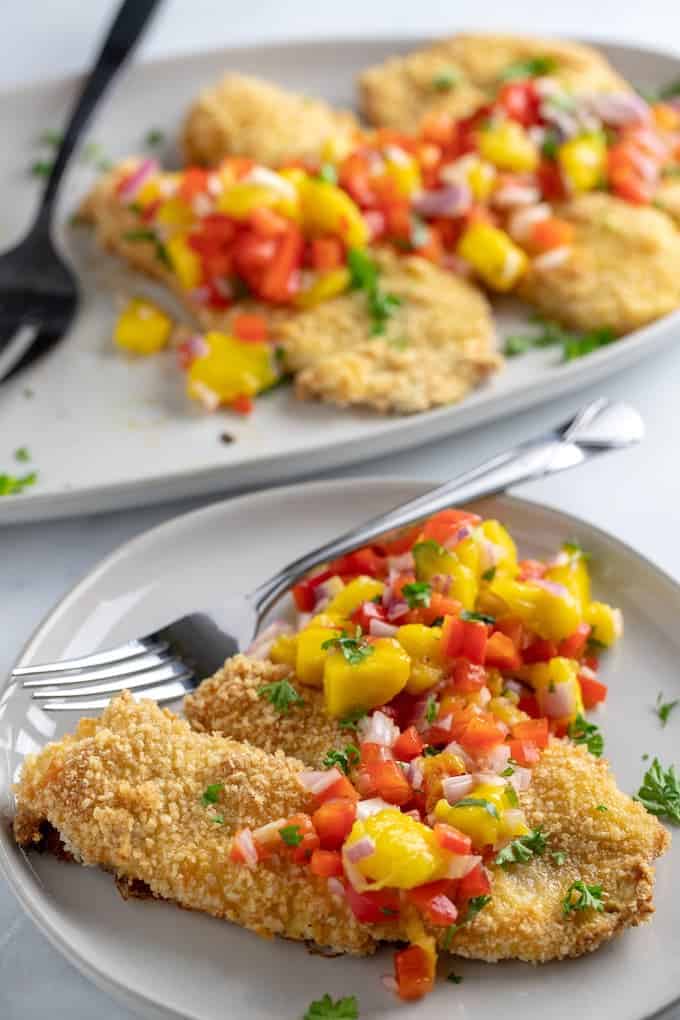 Tips for Making Oven Fried Fish
If you want your oven fried fish to be extra crispy, turn on the broiler for 1-2 minutes before removing it from the oven. Watch this part closely! The broiler is very hot, and can go from crispy to burning really easily if you keep it in too long.
You can use gluten free panko breadcrumbs if you have them.
If you don't have breadcrumbs, try throwing some rice or corn cereal (gluten free) in the food processor, and pulse until you have breadcrumbs. You can throw some seasoning in there at this point, too.
I like to top mine with mango salsa, but you can also try using regular salsa, chopped fresh parsley, or tartar sauce.
Use 1/4 tsp cayenne pepper in with the flour to add a spicy kick to the fish!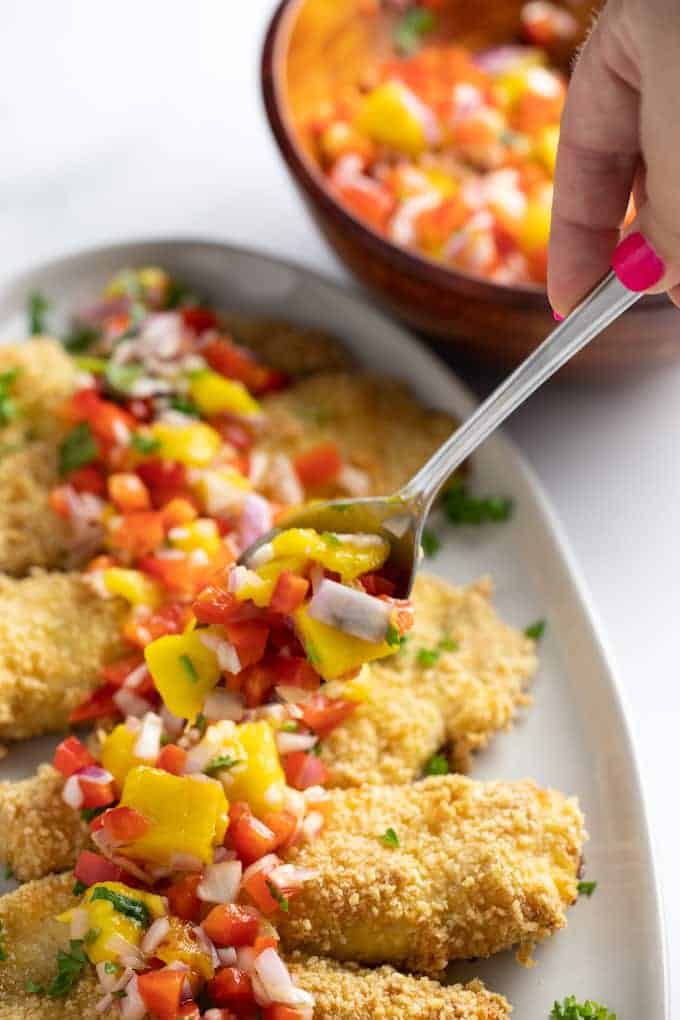 Can you make oven fried fish without egg?
If you run out of egg or just have an allergy, you can mix some cream or milk with some water and use that instead. Egg is the best option, but milk will work in a pinch!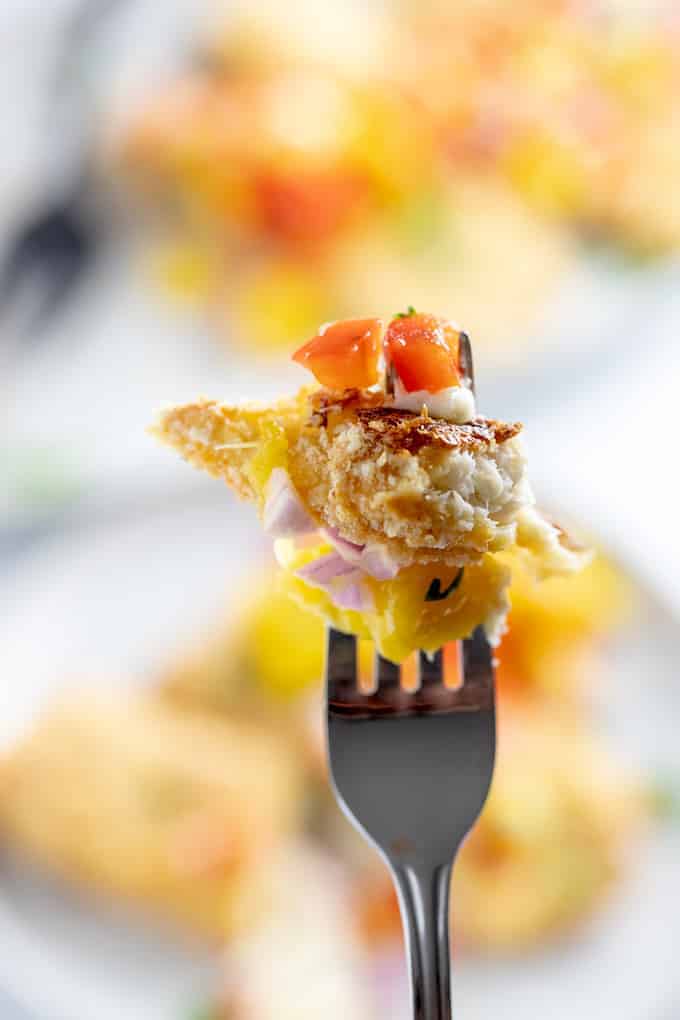 What seasoning goes best with oven fried fish?
This is a really forgiving recipe, but I like to stick with some of the classic flavors.
Garlic powder
Paprika
Salt & Pepper
What fish is best for making oven fried fish?
I usually make this with tilapia, because let's be honest, it's cheap and almost every grocery store with a fish counter carries it. But this recipe will work with any flakey white fish, like cod, bass, grouper, halibut, or even catfish.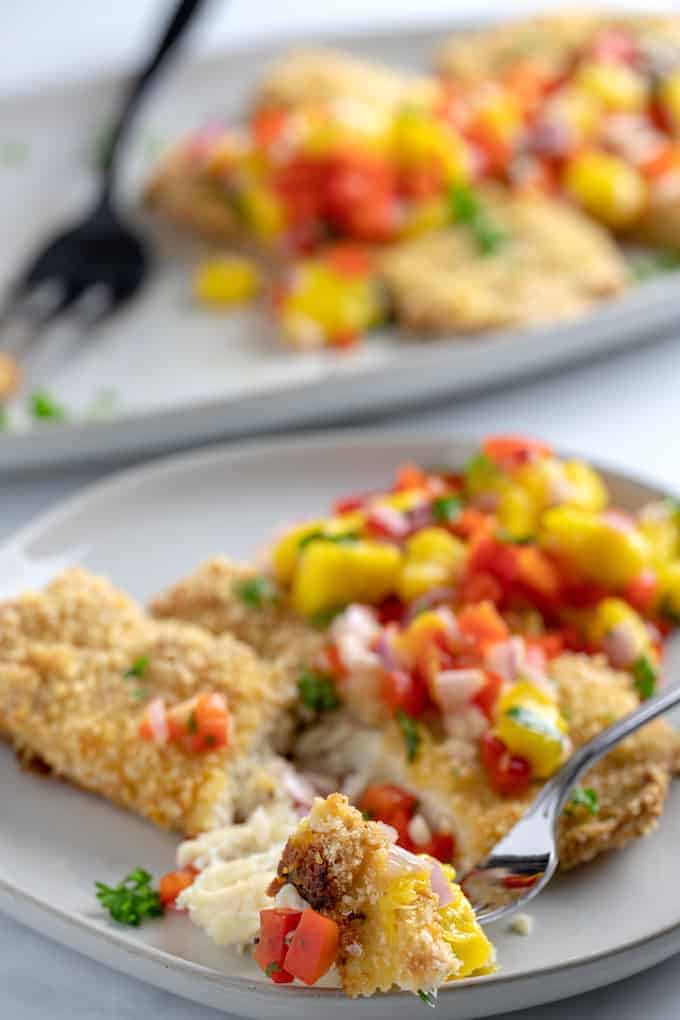 What To Serve With Oven Fried Fish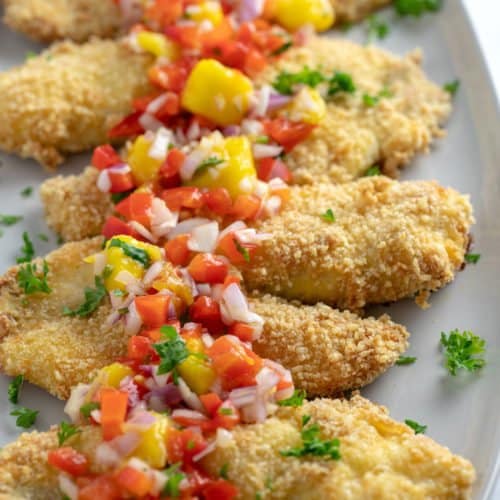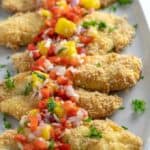 Oven Fried Fish (Oven Fried Tilapia)
Ingredients
4

large

tilapia filets

1

cup

gluten free all purpose flour

1

cup

gluten free breadcrumbs

1

tsp

garlic powder

1

tsp

paprika

1/2

tsp

salt

1/2

tsp

black pepper

2

large

eggs

1/4

cup

water

Cooking oil spray
Instructions
Preheat oven to 450F. Grease a baking sheet and set aside.

Set out 3 bowls. In one, whisk together eggs and water. In another, add breadcrumbs. In the third, add whisk together flour and seasoning.

Take a tilapia filet and dip it into the egg mixture, then coat in flour. Shake to remove excess, then dip into the egg mixture again and finally coat with breadcrumbs. Shake to remove excess again and place onto baking sheet. Repeat with remaining filets.

Lightly coat the fish with the cooking spray, making sure not to leave dry breading. Bake for 10 minutes, or until fish is cooked through and coating is golden brown.
Nutrition Facts
Oven Fried Fish (Oven Fried Tilapia)
Amount Per Serving
Calories 449
Calories from Fat 117
% Daily Value*
Fat 13g20%
Cholesterol 190mg63%
Sodium 425mg18%
Potassium 575mg16%
Carbohydrates 42g14%
Protein 43g86%
Vitamin A 435IU9%
Calcium 53mg5%
Iron 2.7mg15%
* Percent Daily Values are based on a 2000 calorie diet.