Air Fryer Steak
This post may contain affiliate links. Please check our privacy and disclosure policy.
Air Fryer Steak is seasoned with salt and pepper then cooked in an air fryer until it's tender and juicy, and ready in under 15 minutes!
We love getting back to our meat and potatoes roots, and if you're looking for more beef recipes check out this Beef Lo Mein, Easy London Broil Crock Pot Recipe, or Instant Pot Pot Roast!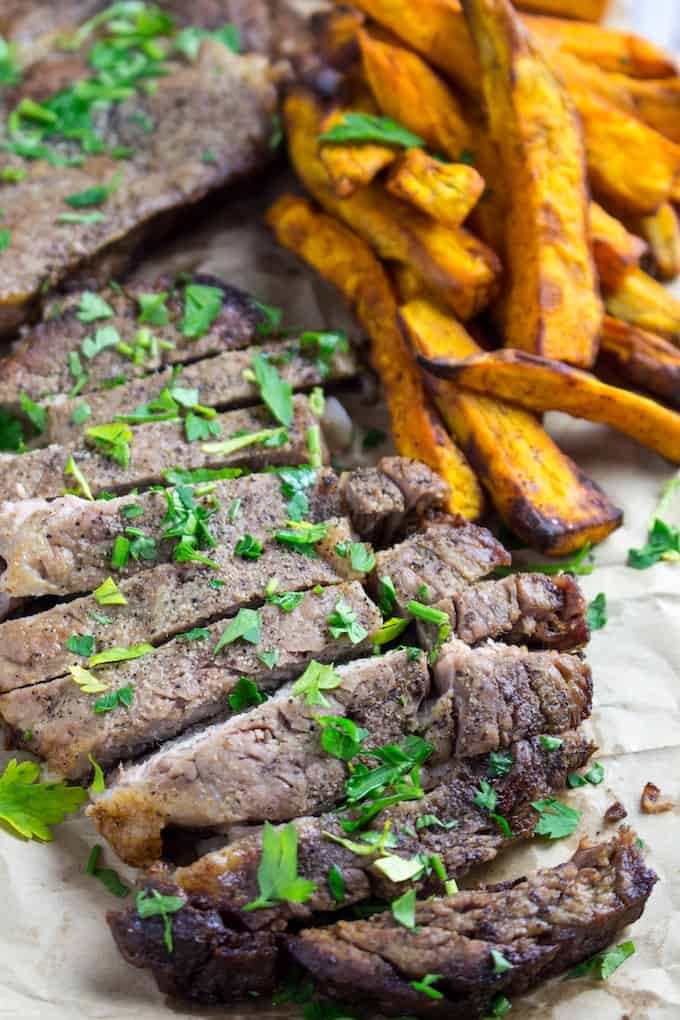 Air Fryer Steak
Air Fryer Steak is a tender, juicy piece of beef made in the air fryer in almost no time at all. It's so simple that you'll wonder how you did without it your whole life! Seriously, why did I ever turn the oven on to begin with?
The best part about using the air fryer is that the hot air circulates around the meat evenly, meaning you get an even cook every single time. Once you figure out which cut you like, all you'll have to do is set the timer to get the exact level of doneness you want, every time!
The only things you have to do are season the steak, then stick it in the air fryer. Did I mention how much I'm loving the air fryer nowadays? You only need a light spray of oil for this recipe, but it manages to produce something so ridiculously good that you'll swear it was cooked in butter all night long.
You can put any kind of seasoning that you want on here, I went with a simple salt and pepper because I only wanted to enhance the natural flavor of the meat. If you want spicy, add 1/4 teaspoon of cayenne pepper, or red pepper flakes.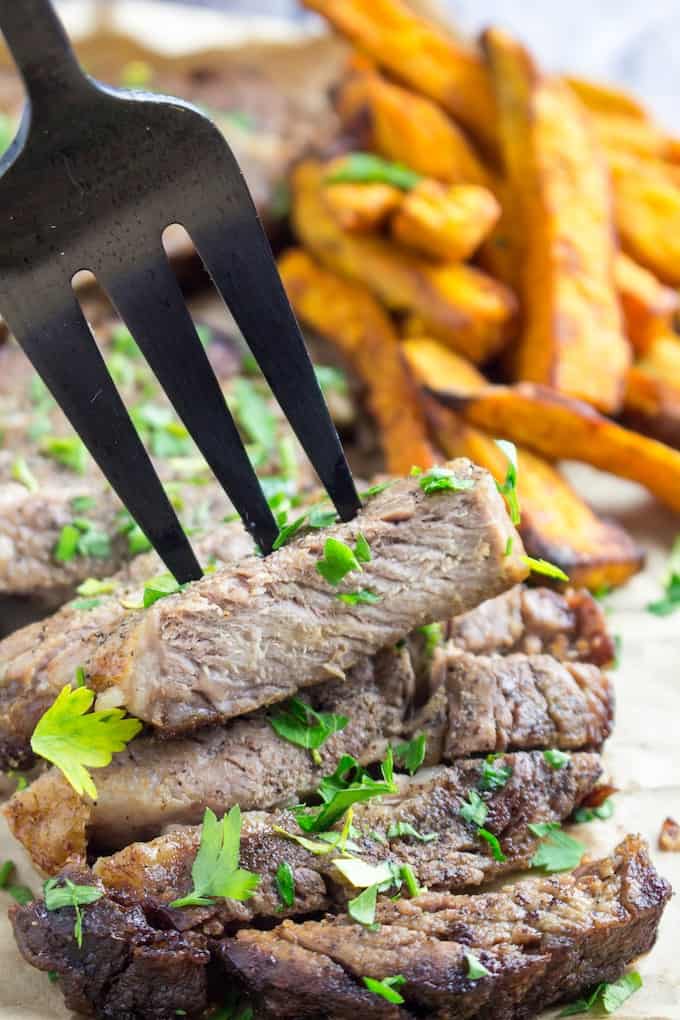 How do I cook steak in the air fryer?
Making a steak in the air fryer is actually incredibly simple! All you have to do is season it well on both sides with salt and pepper (or any rubs or marinades you're choosing to use), put it down in the air fryer basket, turn it on and wait.
That's it! There's no need to flip it over because the air is circulating on all sides, but I actually do flip it in this recipe because I want to get that grilled look on both sides. It's for aesthetics, really.
You can also open the basket and look in on the steak to see how far it's cooked. I made mine well done (it's a travesty, I know, please don't hate me) because I had guests over who don't like to see pink in the meant. But you can stop the air fryer earlier if you want a rare or medium steak.
The thickness of your steak is going to play a part in how long it takes to cook, so keep that in mind.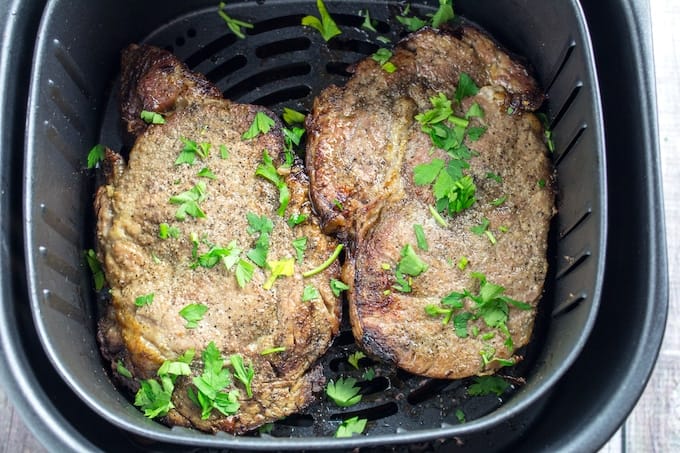 What To Serve With Air Fryer Steak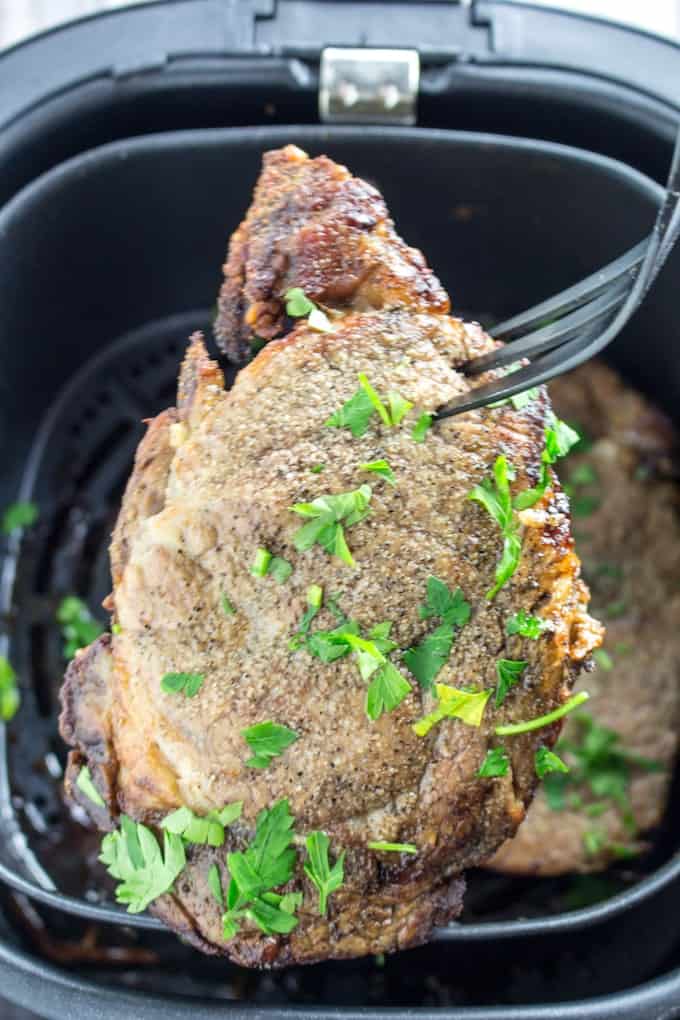 Does an air fryer need to be preheated?
I like to preheat the air fryer, just like an oven. You're going to be taking the basket in and out so it's not going to hold its heat say the same way an oven would. But you will get a really satisfying hissing noise when the steak hits the hot metal.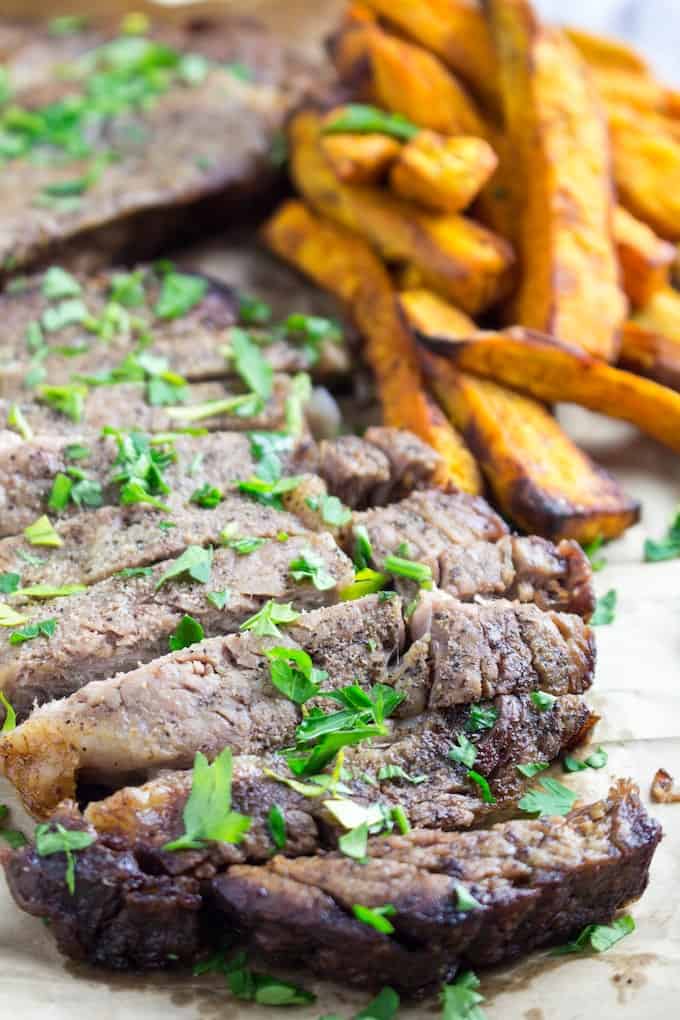 Tips For Making Air Fryer Steak
The amount of time you need to cook your steak will depend on the thickness of the cut. If it's more than 1/2 inch, you might need to add more time to get to the amount you want.
If you want your steak to be even juicier, sear it on all sides in a hot skillet before putting it in the air fryer. Then when it just comes out of the fryer, add a pat of butter to melt on top of the hot steak (this is a restaurant trick!).
You can get different attachments for some brands of air fryers. For example, I know of a few that have the grilling attachments, which will give you a really nice grill-marks look on your steak. You can also get basket attachments that let you cook multiple foods but putting them at different levels.
You might have to cook one steak at a time, depending on the size of your air fryer. Try to let the steaks have some room on each side so the air can circulate evenly around the steaks and cook on all sides.
Don't cook your steak while it's cold, let it warm up for a few minutes first so it'll cook more evenly. Don't leave it out for hours though, we're still aware of food safety!
The air fryer is PERFECT for the summertime because it doesn't heat up the whole house like the oven does, and it doesn't require you going outside like the grill does.
I like ribeye because it's always on sale here, but you can make whatever your favorite cut is in the air fryer.
A pro tip for air fryers in general is that you HAVE to lightly coat whatever you're cooking in oil. Rub olive oil on the outside of these steaks, or lightly coat in cooking spray. This adds a really nice texture to the outside of the steak that is just amazing. And I mean lightly, don't smother it.
Let your steak rest so it can reabsorb some of the juices before slicing into it. This is true of any steak, air fryer or not!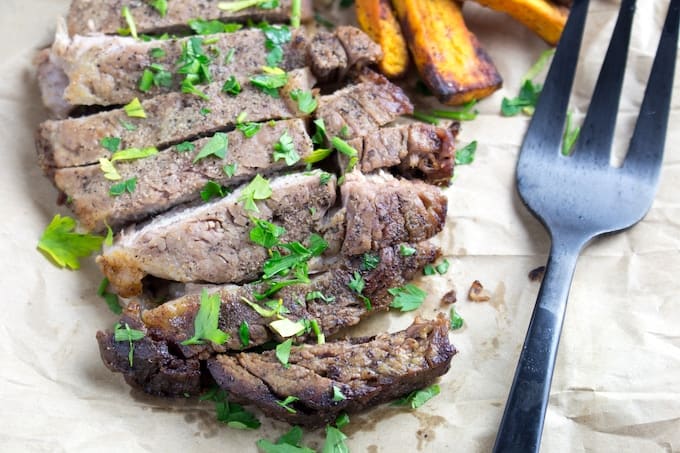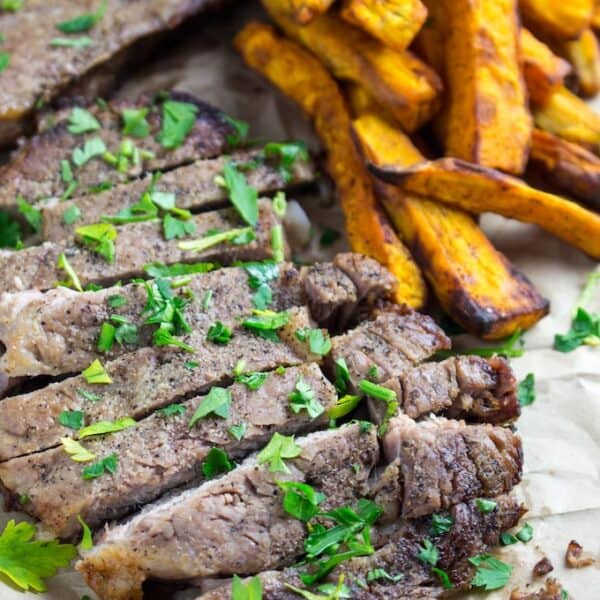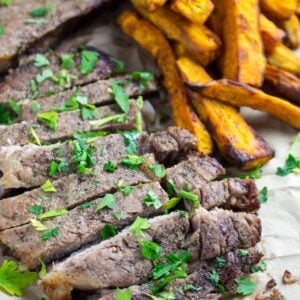 Air Fryer Steak
Air Fryer Steak is seasoned with salt and pepper, then cooked in an air fryer until it's tender and juicy, and ready in only 15 minutes!
Ingredients
2

ribeye steaks

1/2

tsp

salt

1/2

tsp

black pepper
Instructions
Turn air fryer to 390F. Allow to preheat for

2-3 minutes

. Season steaks on both sides with salt and pepper.

Remove basket from air fryer and place steaks into bottom of basket. Cook for

6 minutes

, then turn steaks over and cook for an additional

6-7 minutes

, or until steaks are medium-well (or desired level).
Notes
Click the time in the instructions to start a timer!
The length of time it takes to cook depends on how you like your steak, rare, medium, or well done.
Depending on the size of your air fryer, you may have to cook one steak at a time.
Nutrition
Calories:
471
kcal
(24%)
Protein:
45
g
(90%)
Fat:
31
g
(48%)
Saturated Fat:
14
g
(88%)
Cholesterol:
137
mg
(46%)
Sodium:
698
mg
(30%)
Potassium:
605
mg
(17%)
Vitamin A:
35
IU
(1%)
Calcium:
16
mg
(2%)
Iron:
3.9
mg
(22%)
We are a participant in both the RewardStyle and Amazon Services LLC Associates Program, which are affiliate advertising programs designed to provide a means for sites to earn advertising fees by advertising and linking to amazon.com and through RewardStyle.