S'mores Krispie Treats
This post may contain affiliate links. Please check our privacy and disclosure policy.
A rice krispie treat is one of those desserts (or, let's get real, snack and/or breakfast) that can bring you back to your childhood on the first bite. I remember my great-grandmother making these for all of my cousins on the weekends. They're sweet, easy to make, and they're… well, crispy.
I'm not sure I've ever met someone who doesn't like them. One thing I like so much about these treats, besides for the nostalgia, is how easy they are to get creative with. For example, the picture above, S'mores Krispie Treats!
These are a double-hitter, bringing memories of camping trips with friends and family, along with the delicious krispie treats we already know and love. I have some great camping trip memories, and having food that brings me back is always a good thing.
We always went to a campground along the Delaware Water Gap, aka bear country. We'd kayak for miles, then cook dinner over an open fire, ending with – you guessed it – s'mores! And usually a few bottles of wine to go with it, which was sometimes accompanied by suspicious looks from the park rangers. You know, despite how well-behaved we were.
And, on the even rarer occasion, a suspicious lecture from a park ranger about everything bears like to eat. I'm not sure if our food just smelled that delicious, or park rangers were joking around.
Did you know they love toothpaste? I do.  
For this krispie treats recipe, instead of adding graham crackers, I've added a blend of spices, brown sugar and molasses, so you get the flavor of graham crackers with the ease of a krispie treat recipe.
Camping trips aside, I'm moving out of my condo in a few short weeks, so my life is in boxes right now. Those boxes will soon include my kitchen, and all of the wonderful kitchen gadgets, pots, pans and knives I've spent the past few years accumulating.
Please excuse my for a moment while I weep a little bit…
Ahem… Now that that's out-of-the-way…
My crazy schedule means quick snacks are on the top of my list of things to make. I kept a tray of these around for a few days, and they were the perfect pick-me-up in the middle of the day. Or the evening. Or the next morning… nom nom nom.
You know the time, just after work, when you know you still have a lot to get done in the day? That's where krispie treats come in handy.
You can even stack them decoratively and take pictures of them, if you're really motivated. And I know you are!
So now, without further adieu, I give you S'mores Krispie Treats!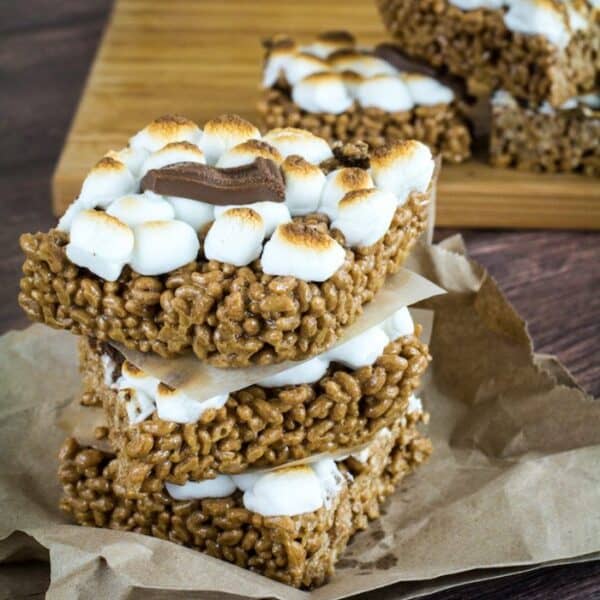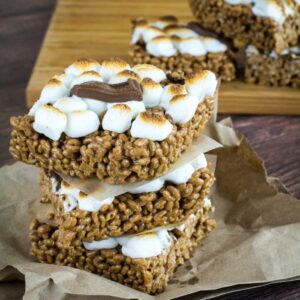 S'mores Crispie Treats
These s'mores krispie treats are sweet, crispy and easy to make. With the flavor of graham crackers, melted marshmallows and bits of chocolate, these gooey treats are sure to be the latest addition to your recipe box.
Ingredients
6

cups

cocoa krispies

,

gluten free

1 1/2

10oz packages

small marshmallows

1 1/2

cups

semi-sweet chocolate chips

3

tbsp

butter

,

unsalted

2

tbsp

light brown sugar

1

tbsp

molasses

1/2

tsp

cinnamon

1/2

tsp

vanilla extract
Instructions
Grease a 13x9-inch baking dish.

Add cocoa crispies and 1 cup chocolate chips to a large mixing bowl and set aside.

In a saucepan over low-medium heat, melt butter. Add one package of marshmallows, stirring often. When they begin to melt, add brown sugar, molasses, cinnamon and vanilla extract. Stir until marshmallows are completely melted and all ingredients are mixed in well.

Add melted marshmallows to crispies and quickly stir until all ingredients are combined. Transfer into baking dish, pressing down until evenly spread out.

Top with remaining chocolate chips and marshmallows. If you'd like to melt the marshmallows, place pan under broiler for 2-3 minutes, or until marshmallows look toasted.
Notes
When you're pressing the treats into the baking dish, use parchment paper to make this easier, or a well-greased spatula.
The broiler will cook the marshmallows VERY quickly, keep an eye on them the entire time!
We are a participant in both the RewardStyle and Amazon Services LLC Associates Program, which are affiliate advertising programs designed to provide a means for sites to earn advertising fees by advertising and linking to amazon.com and through RewardStyle.